Anti-Semitic chants and actions 'delegitimize' pro-Palestinian cause asserts this Shelagh Fogarty caller
30 October 2023, 16:34 | Updated: 30 October 2023, 16:45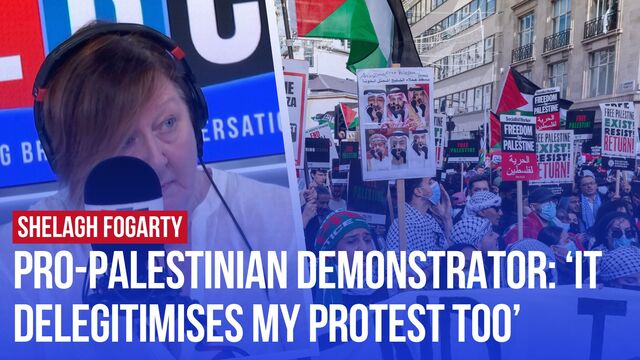 Shelagh Fogarty speaks to caller who attended pro-Palestine protest over 'anti-Semitism'
This caller who attended the pro-Palestine protests over the weekend, tells Shelagh that he disagrees with all forms of anti-Semitism displayed and would challenge it if he'd seen any.
After two women were arrested for inciting racial hatred at a pro-Palestinian protest in London, Shelagh Fogarty spoke to caller Sam on the rise of anti-Semitic chants.
The two women were filmed chanting a reference to an ancient massacre of Jewish people in the Middle East.
Shelagh began by sharing the "pain" she felt upon hearing the news, asserting to Sam that despite agreeing that "people have the right to protest for the cause that is closest to their heart" a line must be drawn on offensive chants.
Continuing she added: "Some people are, you've seen them, I've seen them, are openly supporting Hamas or celebrating the nature of what happens on October 7th, then that has to be addressed, even if it's one person."
Sam agreed, noting that he too would "100% challenge" anybody he heard or saw spouting anti-Semitic hate.
Shelagh concurred, stating that she "didn't want extremists having the upper hand".
Read more: 'Europe is the next stop' Jerusalem Deputy Mayor warns of rising anti-Semitism as Muslim crowd storms Dagestan airport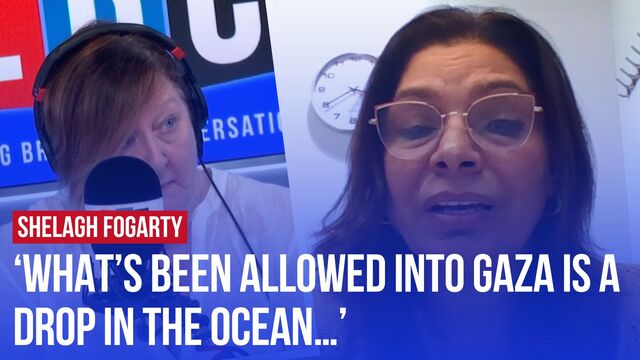 Fikr Shallatoot of Medical Aid for Palestinians: '94 aid trucks are merely a drop in the ocean'
A video was shared on social media yesterday of two women leading a chant about the Battle of Khaybar in 628, when Jews were killed by an Islamic army in the land that is now Saudi Arabia.
Police had asked for help with identifying two women after being made aware of the chant, confirming on Sunday that they had been arrested.
Read More: Israel and Hamas engage in direct clashes near border crossing as IDF ground operation intensifies
Sam shared his frustration at their actions, and how it tarred the intention of the protests.
Concluding he noted: "People pulling off the missing posters, I got angry about that as much as any Jewish person would, because it delegitimizes my protest."
This week's protest saw people demanding 'intifada', an apparent reference to Palestinian armed uprisings against Israel.
Around 100 arrests have been made by the Met since the protests began three weeks ago, many of them for public order offences and assaulting emergency workers.