'The government have played us like a fiddle': student nurse's take on the five percent pay deal
17 March 2023, 15:12 | Updated: 24 March 2023, 13:20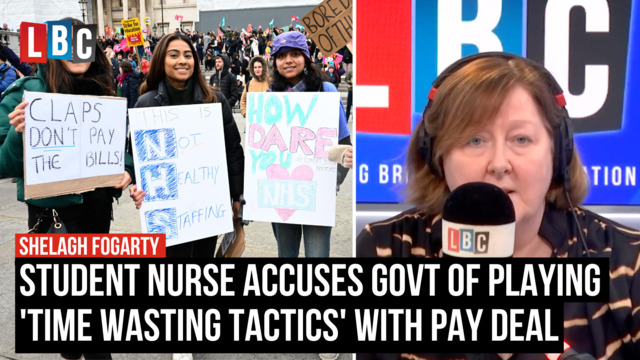 Student nurse accuses the govt of playing 'time wasting tactics' with 'non-consolidated' pay deal
A student nurse has told Shelagh Fogarty that the government have been employing 'time wasting tactics' to extend negotiations to the end of the union's strike mandate to force them into an offer they cannot refuse.
Following the news that a five percent pay rise has been offered to NHS staff in England, a caller told Shelagh Fogarty that "everyone loses out" from this deal and it represents only "time wasting tactics by the government."
The five percent pay rise applies to nurse and ambulance workers. Staff have been offered a one-off payment of at least £1,655 to top up the past year's pay award.
The caller began, "I'm a student nurse and objectively this deal is terrible for people like me."
This is because the "non-consolidated part of the pay deal means I cannot get the bonus", which is at least £1,665.
To back his point the caller said: "RMT have got 15%, barristers got 15% in one year, fire fighters got 12%", with the four percent nurses got last year this additional five percent will give nurses a mere nine percent pay rise over two years which puts them "miles behind other unions."
"Over three weeks of negotiations" he said, we got "1.5 percent… they have had their pants pulled down."
The biggest three unions - the Royal College of Nursing, Unison and the GMB - are all backing the deal, and recommending it to members while Unite the Union has said it cannot recommend it to members but will put it to a vote. The offer covers all NHS staff except doctors, who are on a different contract.
Read More: Teachers' strikes breakthrough as unions agree to 'intensive talks' with government
Read More: Former Education Adviser Sam Freedman reveals one-off payment incentive for childcare providers
The caller also attributed the failure of strike action to "pathetic, waste of time strikes at the start." He explained that the "first two strikes were not full walkouts" and that "negotiations to man the wards" meant "there basically wasn't a strike" essentially only "a few elective operations were cancelled."
"We blew it with three months of pointless strikes" the "second" full walkouts were announced, he said "the government announced talks."
The caller explained how: "The government have played us like a fiddle." This is because "by the time we put it to the members are mandate runs out and we will have to re-ballot if we want to go on strike and the government knew this."
NHS staff had been asking for above-inflation rises, which at one point, would have equated to an increase of more than 14%.
The negotiations have featured mere "time wasting tactics by the government" and as a result he said, "this is not going to solve anything, everyone loses out"
The caller concluded: "I was a member of the RCN and I cancelled my subscription over night."
Read More: 'I can't trust the experts!': James O'Brien struggles to find reliable source following Spring Budget
Read More: Met Police 'riddled with racism, sexism and homophobia' and has 'failed to change', landmark report to claim