Shelagh Fogarty calls for Lee Anderson to be sacked over migrant comment
8 August 2023, 16:02 | Updated: 8 August 2023, 16:43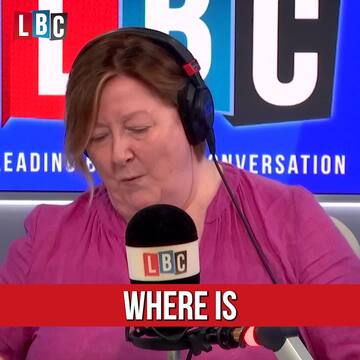 Shelagh Fogarty calls out the lack of 'discipline' in the Tory party
Shelagh Fogarty says she is "dispirited by the tone of our politics at the moment" after Lee Anderson told migrants to 'F*** off back to France' if they don't want to be housed on the Bibby Stockholm.
In her reaction to comments made by Tory Deputy Chairman Lee Anderson, Shelagh Fogarty turned her questioning to the Prime Minister, who is currently on holiday in California.
"It should be a line that you don't cross, that you at least attempt to apologise for. But it should be a line that Rishi Sunak knows not to cross. And of course he doesn't cross it himself, but he turns a blind eye when his close colleagues do.
"Which to me is tantamount to doing the same," she said.
READ MORE: James O'Brien scolds Tory MPs for 'sub-National Front rhetoric' and their claims that migrants are enjoying 4* hotels
Her fury continued: "It's not on, is it? It really isn't...I think any of us in any profession or workplace would get ourselves into trouble probably and up to and including facing the sack if we spoke like that to somebody in our office or even just about people in our office."
Questioning current day politics, she said: "I think Theresa may would have sacked him and I think David Cameron would have sacked him."
"I think [Rishi Sunak] should sack him. And if he doesn't, he's as bad as him," she insisted.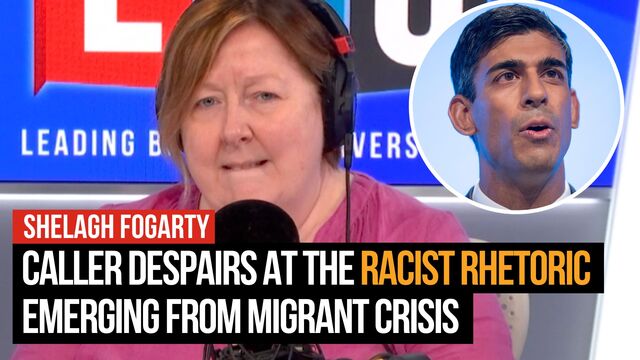 Caller despairs at the racist rhetoric emerging from migrant crisis
READ MORE: 'We will punish and disgrace rogue lawyers who help small boat migrants lie to stay in UK', justice secretary vows
"The reason I challenge Rishi Sunak directly on what Lee Anderson has said and challenge him to sack him for it is, I would love to know whether Rishi Sunak thinks it's different, his so-called 'salty language' - as his fellow minister, Alex Chalk, described it - is that different than if somebody shouted the same?"
Shelagh pointed to the Prime Minister again, saying: "Is there a difference if somebody, whoever they were, shouted that about your parents, Mr Sunak?"
Placing emphasis on suggested double standards she went on: "Would it be different than Lee Anderson shouting it about migrants? It's an interesting question, isn't it?"
"I don't think there is a difference."