BMA deny new 'informal' pay talks with the government
10 August 2023, 14:17 | Updated: 10 August 2023, 14:27
BMA Council chairman: 'There are no pay talks going on between the BMA and the government.'
The British Medical Association's council chairman Dr Philip Banfield tells LBC rumours of new pay talks are false.
"We'd appreciate talks, we'd like to get back into talks so we can stop the industrial action", Dr Banfield told Shelagh Fogarty, after she asked whether informal talks were resuming.
"There are no talks going on at the moment. As you would expect in any situation like this, there is an exchange of information on all sorts of levels across the system."
READ MORE: Rishi's final offer on public sector pay: Teachers and junior doctors to get 6% more to stave off strikes
This comes after the Heath Service Journal reported an 'exclusive' claiming that the government has restarted 'informal' talks with junior doctors.
"So these are sort of back channel communications that are always ongoing, rather than new informal talks?" Shelagh posed.
Dr Banfield stated that "officials from the Department of Health always talk to officials from the from the BMA, because unless we have an understanding of where the position of both sides is, you can't make any sort of progress. But the Prime Minister has been emphatic in saying there is no more negotiation".
"And we think that that's a ridiculous stance to to have," he said of Rishi Sunak's refusal to resume talks.
"This government has not made any serious attempt at negotiation, It's not made a credible offer."
Rishi Sunak has offered junior doctors a 6% pay rise which the BMA has turned down despite the Prime Minister saying it is a 'final offer'.
"It is negotiating in bad faith by trying to offer 5% when it knew that the pay award that had been awarded by the Independent Review Body was was was higher than that. But of course, these these pay awards are still pay cuts in relative terms.
"So let's not, you know, say this government is actually giving pay rises to the public sector. It's it's perpetuating year on year pay cuts."
This year junior doctors have been on strike multiple times over pay disputes with the NHS reporting at the peak of the action, there were 20,342 staff not at work due to industrial action.
To be sure, Shelagh asked: "So just to be clear from your perspective, no new forms of communication are happening/have started today between the government and the BMA."
"There are no talks about pay going on between the BMA and government," he asserted.
READ MORE: 'You're the Prime Minister. Your staff aren't happy': Sunak defends NHS record in testy exchange with junior doctor
READ MORE: Rishi Sunak branded a 'liar' by A&E doctor after PM tells LBC strikes are to blame for NHS waiting list rocketing up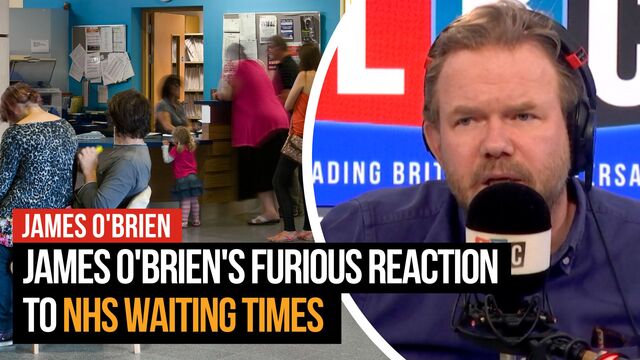 James O'Brien's furious reaction to NHS waiting times