Shelagh Fogarty caller fears 'evil' knife attack in Annecy could be replicated in the UK
8 June 2023, 17:51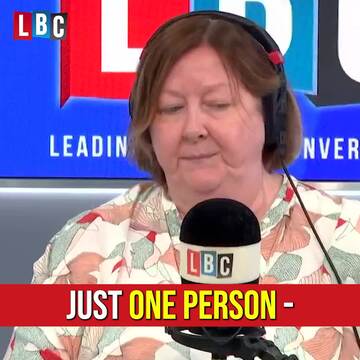 Caller worried about migrants on barges after stabbing in France
A British national is among four children with "life-threatening injuries" following a knife attack which this caller deemed "evil" in Annecy, southeast France.
Reflecting on the knife attack in Annecy which left four people with "life-threatening injuries", this Shelagh Fogarty caller is worried it "could happen here".
Sharing his concerns, the caller told Shelagh: "They want to re-home some of these people on barges, I mean, all we need is one person like this horrible person who has just done these evil things, it could happen here".
Shelagh noted the distress refugees endure when fleeing war, stating: "If you are a refugee from a long war in which you have seen loved ones killed, you've seen your city destroyed, you have been threatened, and maybe tortured yourself.
"You've gone through that then you have to try and get on with a normal life".
Emphasising how her view doesn't "excuse this man", she added: "What he's done is horrific".
Shelagh continued by saying: "Not being able to get an asylum decision can send them crazy and make them do crazy things.
"But we also know that some people are full of hate, full of political hatred, and religious hatred and use that as an excuse to murder people."
Shelagh noted how all asylum seekers shouldn't be associated with "threat" adding: "So many asylum seekers and migrants who've come to this country have done the polar opposite of that".
Listen and subscribe to Unprecedented: Inside Downing Street on Global Player
Eyewitness of the knife attack in Annecy details the 'shocking' and 'traumatic' scenes.
READ MORE: British girl, three, among children injured in France knife rampage as police shoot and arrest Syrian attacker
Their conversation falls as four children and two adults were injured in a knife attack in the Alpine town of Annecy in France.
The children – one aged 22 months, two aged two years old and one aged three – were in a critical condition from stab wounds.
Dozens of other very young children were receiving support for the trauma of witnessing the stabbings, which happened at a lakeside playground.
A police spokesman said the perpetrator is a 31-year-old Syrian asylum seeker who carried Swedish identity documents and a Swedish driving license.
READ MORE: Two children fight for life after being stabbed 'by Syrian attacker' at playground near lake in France
An eyewitness spoke to Tom Swarbrick in the aftermath of the incident, stating the "paradise" of Lake Annecy had transformed into a "hell".