'They knew it was a burning island': Caller furious at airline for letting her travel to Rhodes
24 July 2023, 17:27
Caller: 'It was a burning island, and they knew that!'
As 10,000 British tourists are feared to be on the fire-scorched Greek island of Rhodes, Shelagh Fogarty speaks to this caller who awaits her return to the UK.
This frustrated caller spoke to Shelagh Fogarty after her airline departed for Rhodes despite the violent wildfires decimating the island.
Fires burning since Wednesday on Rhodes have forced the evacuation of around 19,000 people, as an inferno reached coastal resorts on the island's southeastern coast.
The caller began by telling Shelagh: "I am so cross with the airline for putting us on a flight it was a burning island and they knew that they had the army evacuating on Saturday morning, yet they let us fly at 4:45 on Saturday night from Manchester.".
Noting holidaymakers she had encountered, who had been allowed to fly after her, the caller condemned the Greek government, the tour operators and the airline for being "irresponsible".
Shelagh stated: "I'm reading that some people, when they were evacuated and then dropped off, they were dropped off at sports hall schools, as you said, conference centres and sometimes just on the street".
Detailing an encounter with a 65-year-old holidaymaker, the caller said "She was battered and bruised and had walked for six miles then sleep on the floor for a few days."
Short-notice flights to Rhodes are still available and most holiday firms will continue to fly there until the airport is closed.
Read more: First rescue flights from fire-ravaged Rhodes arrive back in the UK as Brits forced to flee in mass evacuation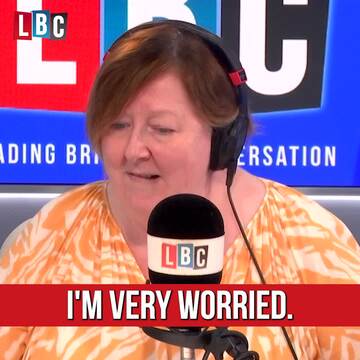 Caller is afraid of the 'accelerating rate' of climate change
Read more: 'Don't stop, just run!' British holidaymaker's terrifying tale of running from Rhodes wildfires
Up to 10,000 Britons are estimated to be on Rhodes, with repatriation flights to rescue holidaymakers now landing back in the UK.
Shelagh questioned the caller, stating: "How easy is it for you to genuinely know what's happening with the fires?
The caller replied staying: "Well, all we can do is what you can do, and that's just to look on websites and look online, we're getting nothing from our particular travel company"
Continuing the caller stated the airline was providing little information, but, had notified them that they were accepting transfers, to which she noted: "Obviously everybody's heading to the airport trying to get out".
Detailing the anguish she's facing, she told Shelagh: "I'm now seriously, seriously worried.
"I'm trying to keep it away from my daughter, but I can see the only way off this island is on a boat"