LBC caller details 'disgusting anti-Semitic' act he witnessed, as hate crimes rise in fall out of Israel-Hamas war
16 October 2023, 17:22 | Updated: 19 October 2023, 16:49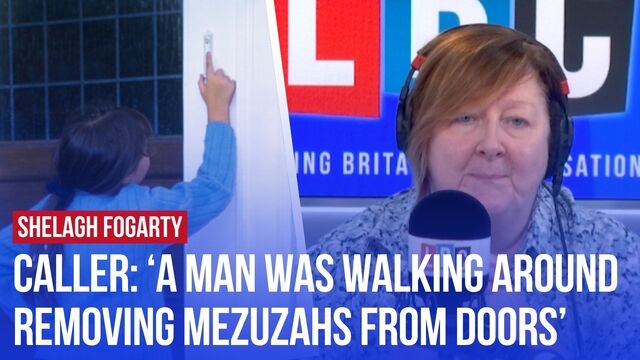 This Shelagh caller shares 'horrific' anti-semitic act he witnessed
Anti-Semitism in London has risen drastically since the start of the Israel-Hamas war, and police have warned Jewish people in the capital are "genuinely scared".
Calling from Elstree, Simon began by detailing to Shelagh Fogarty, an "anti-Semitic" and "anti-Jewish" act he witnessed on Monday morning.
Simon asserted: "In Borehamwood and Elstree there was a man wandering around the streets attempting to remove the mezuzah from people's doorposts."
Explaining to listeners what a mezuzah is, Simon added: "It's a small scroll which we affix to our doors as part of our religion."
Read more: Hero Brit, 32, killed fighting Hamas terrorists as he saved Israeli civilians from massacre
He said the incident was only "two streets away" from his home.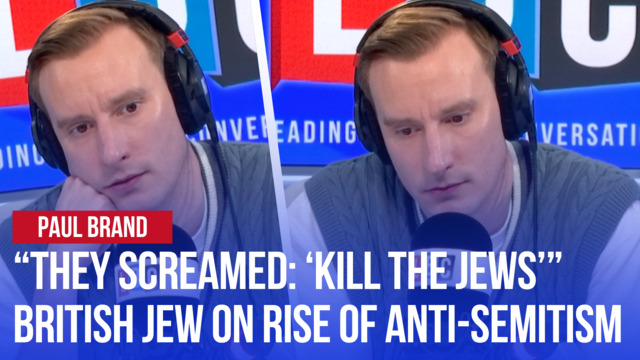 Caller Aaron details anti-Semitism he has experienced in the last week
"It's very sad to see that in 2023," Simon told Shelagh, "but unfortunately, it's been going on for years since we were all children".
Read more: Anti-Semitic hate soars in London as police vow to stop 'celebrations of terrorism or death'
He added: "We've all experienced it at our schools, through our universities, in the workplace, and sadly, even today".
Hertfordshire police said: "Police were called at around 12pm on Monday 16 October to report an incident of hate crime on Grange Rd, Elstree.
"It is reported that a man has spat on a vehicle outside an address and removed a religious sign from outside the front door."
PS Joanne Skingley said: "We are investigating an aggravated public order offence towards a victim. I appreciate these reports will no doubt cause some concern amongst our local area.
"I would like to reassure everyone that we are proactively patrolling the area and engaging with the public. If you have any concerns or if you see anything suspicious, please contact police."
Home secretary Suella Braverman recently issued a stark warning to demonstrators at pro-Palestine rallies, some of whom she claimed were involved in glorifying terrorism.
The Community Security Trust (CST) recorded 89 "anti-Jewish hate" incidents from 7 to 10 October.
Jewish schools in London and Manchester have increased security measures as concerns grow about a possible rise in antisemitism directed at children.
Read more: Gaza 'running out of life': UN warns food and water 'in scarce supply' as Israel vows 'fateful' hour looms for Hamas