Suella Braverman's hardline crime bill seems like she's 'interviewing' for career at 'pathetic' news channels, says caller
7 November 2023, 16:42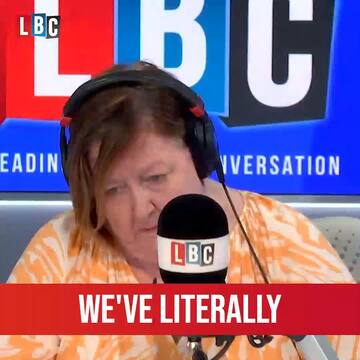 Caller: Suella's 'interviewing' for post-political careers at 'pathetic' news channels
Caller Pete tells Shelagh Fogarty that he believes Suella Braverman and some of her colleagues are essentially "interviewing" for post-political careers at "pathetic" news channels.
The conversation comes after Prime Minister Rishi Sunak made law and order a central pillar of today's King's Speech, including already-announced proposals for killers convicted of the most horrific murders to expect whole life orders.
Pete said: "We've literally all lived this the last 15 years and some madman coming in and saying we need to get tougher on crime when they've been in power for 15 years or nearly 15 years, I mean, don't kid yourself, and don't let these people anywhere near power anymore.
"It does feel, despite all the pomp of today and, you know, it was that long a speech, was it, we do feel like we're in a kind of waiting room, don't we? For change.
"Oh, yeah, I feel a little bit sorry that the king has to do the speech, you know, is part of what you call it, routine and tradition and things like that."
Read more: 'Sexual and sadistic' murderers to be jailed for rest of their lives, Rishi Sunak vows, as PM pledges crime crackdown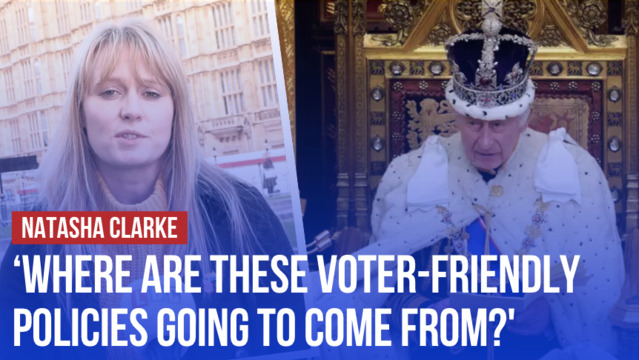 Natasha Clarke on the government's policies as outlined in the King's speech
The Government's Criminal Justice Bill, to be announced in the King's Speech, will see "laws keep pace with criminals", according to Braverman.
Rapists and other serious sexual offenders will also not be let out early from prison sentences, while other measures include giving police the power to enter a property without a warrant to seize stolen goods when they have reasonable proof that a specific stolen item is inside.
Pete continued: "Yeah because I do feel like he particularly wanted to do it today.
"But, you know, the reason why I brought him in is saying what she's doing or saying what she's saying. Excuse me. It's because she's interviewing. She's interviewing for her next position. And people are saying, 'Oh, she won't be the leader of the Conservatives', she's not into interviewing for that.
"She's into the forgetting on GB news. Like these people are desperate now. Their whole career has been destroyed because the country's realising that actually useless.
"So now they can just go down the route of basically getting people riled up and angry on news channels, which are not news channels because they've got nothing left. They have nothing to provide to this country anymore.
"They have no value and they are all scrambling for the few spots that they can get on these pathetic news channels which are just sowing division and hate in this country. That's it."
Read more: Government defends King's speech crackdown on crime as long-planned, not electioneering