'Sexual and sadistic' murderers to be jailed for rest of their lives, Rishi Sunak vows, as PM pledges crime crackdown
6 November 2023, 22:30 | Updated: 7 November 2023, 11:05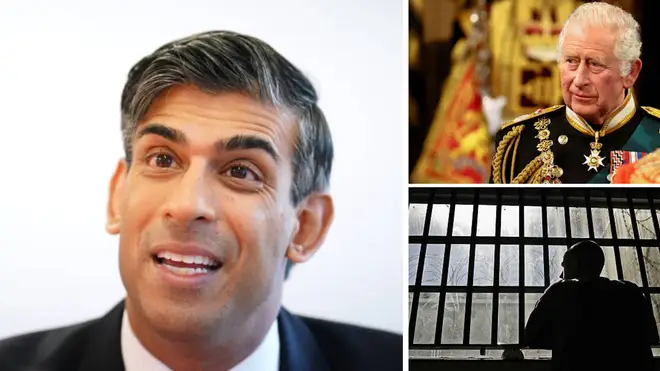 Rishi Sunak has said that people who murder with sexual and sadistic intent will never leave prison, as he vowed to crack down on violent crime.
Speaking ahead of the King's Speech on Tuesday, when a raft of policies will be unveiled, Mr Sunak said that "the most horrific murderers" will have "little or no chance of ever being released".
Foremost among them will be murderers whose kills involve sexual and sadistic conduct, the Prime Minister said. Judges will only able to choose not to impose whole life orders in exceptional circumstances.
The pledge was trailed by Mr Sunak in the Conservative Party conference last month, and over the summer. It appears to be part of an attempt by the government to pivot towards a 'law and order' image ahead of a probable general election next year.
Read more: Shoplifters and burglars face mandatory prison in law and order push - after Labour calls govt crime record 'abysmal'
Read more: Nearly 95% of crimes go unsolved as Labour slams 'national scandal' of Government's law and order record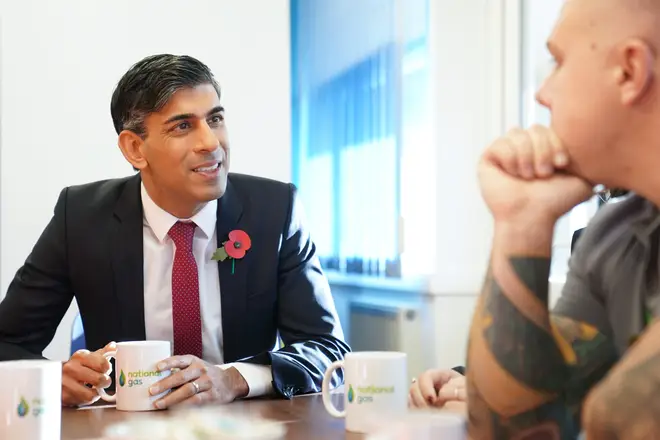 But it comes after the Justice Secretary admitted last month that prisons were overcrowded, and less serious offenders would be released up to 18 days early to ease the problem.
Alex Chalk also said that the government would work to ensure that jail sentences of less than "will be suspended and offenders will be punished in the community".
Read more: Tens of thousands of criminals could dodge jail to slash overcrowding, ministers to announce today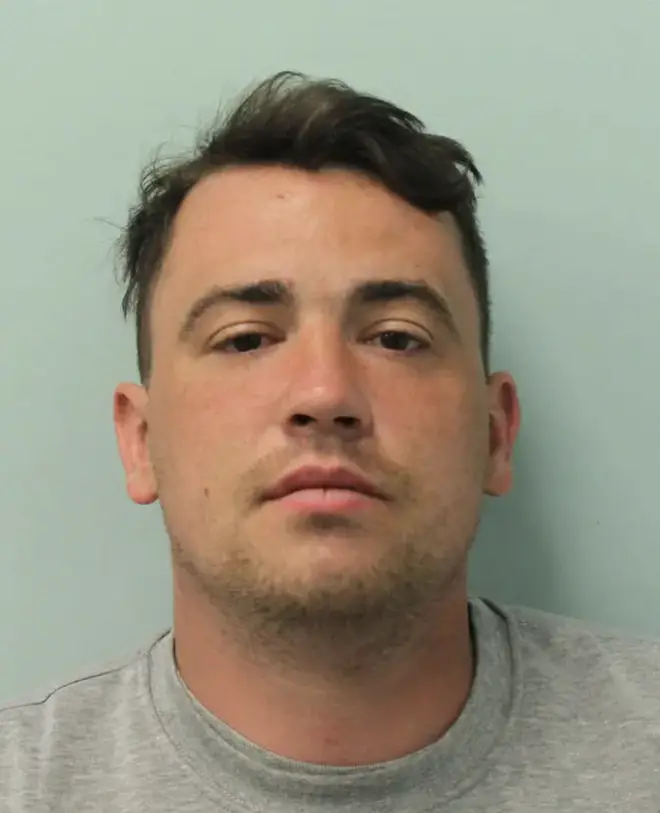 Mr Sunak also said that rapists and people who commit other serious sexual offences have to serve their full jail sentences.
Criminals will also have to appear in the dock to hear their sentencing - otherwise they face having two years added on to their jail term.
It follows a string of high-profile criminals, like killer nurse Lucy Letby and murderer Jordan McSweeney, who refused to come to court for their sentencing.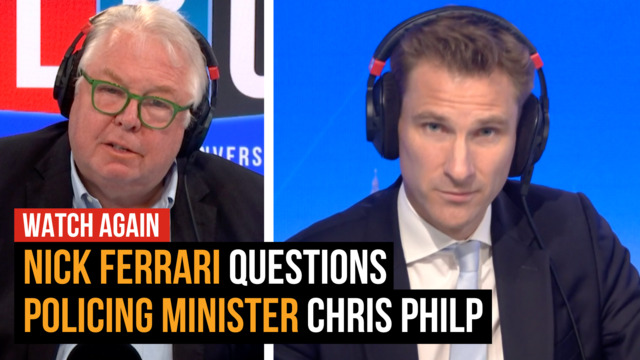 Crime and Policing Minister Chris Philp joins Nick Ferrari
Mr Sunak said: "I want everyone across the country to have the pride and peace of mind that comes with knowing your community, where you are raising your family and taking your children to school, is safe. That is my vision of what a better Britain looks like.
"Thanks to this Government, crime is down, but we must always strive to do more, taking the right long-term decisions for the country and keeping the worst offenders locked up for longer. In the most despicable cases, these evil criminals must never be free on our streets again.
"Life needs to mean life."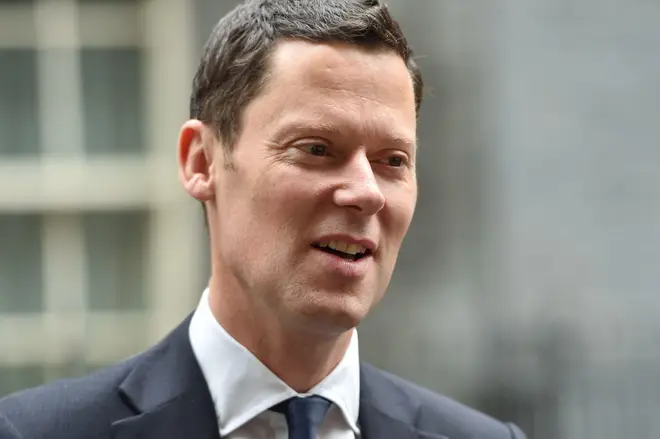 The government is also set to add more 'aggravating factors' - aspects of criminal behaviour that incur higher sentences.
Mr Sunak said that being a member or leader of a grooming gang, or murdering your partner at the end of a relationship, will be aggravating factors.
Ministers will also have the power to block criminals from being paroled, or from marrying while in prison. They said that this puts victims "at the heart of justice considerations".
Police will get new powers to tackle crime and anti-social behaviour, including the ability to enter a premises without a warrant to seize stolen goods when they have reasonable proof that a specific stolen item is inside.
Officers could use this to recover stolen phones using GPS tracking.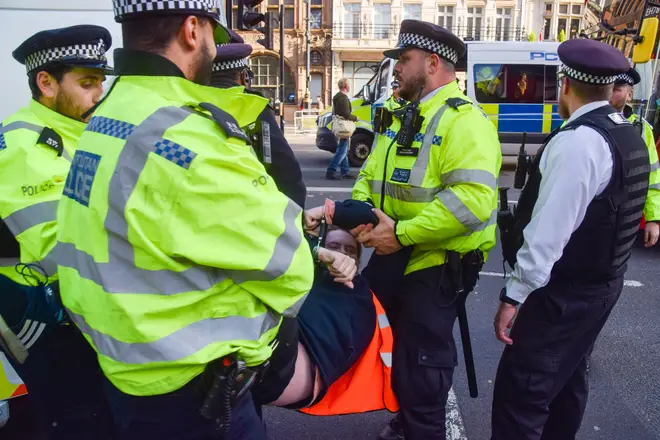 The government also said that Britain's intelligence agencies will have new powers to tackle evolving national security threats from terrorists, hostile state actors and international criminals.
Crime, excluding fraud and computer misuse, has generally fallen in England and Wales over the 13 years of Conservative and coalition governments, according to the Office for National Statistics.
But crime had already been falling before they came to power, from a high in the mid-1990s, driven largely by a drop in violence, vehicle crime and burglary.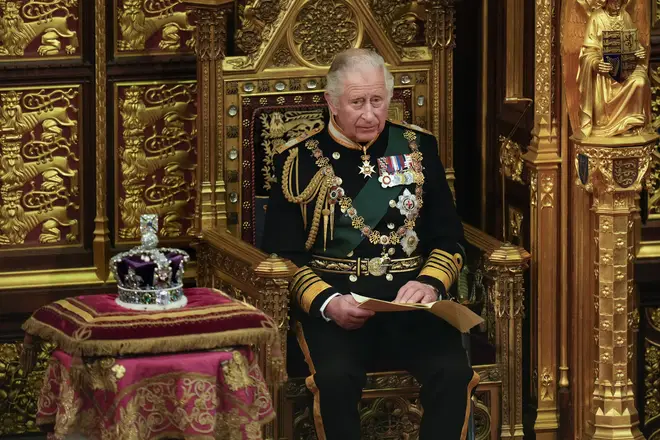 The King's Speech, which marks the start of the next session of Parliament, is also set to include a smoking crackdown and a move to phase out leasehold property ownership.
It will also include a plan to create an annual system for awarding oil and gas licences, provided two tests are met: that the UK is set to import more oil and gas from other countries than it produces at home, and that the emissions from importing are higher than producing domestically.
The government has said this will provide certainty for investors, create jobs and help shore up the UK's energy security.
Critics claim that this is another sign of Mr Sunak watering down climate commitments, after delaying the deadline for the end of sales of new petrol and diesel cars, and gas boilers. The UK is still officially committed to reaching net zero carbon emissions by 2050.
Mr Sunak promised he would offer long-term decisions, not "short-term gimmicks".
It will be the first King's Speech in seven decades, after the death of Queen Elizabeth last year.
The speech is where the monarch sets out the legislative programme for the coming session, reading on behalf of the Prime Minister and the government.