Tens of thousands of criminals could dodge jail to slash overcrowding, ministers to announce today
16 October 2023, 00:01 | Updated: 17 October 2023, 14:34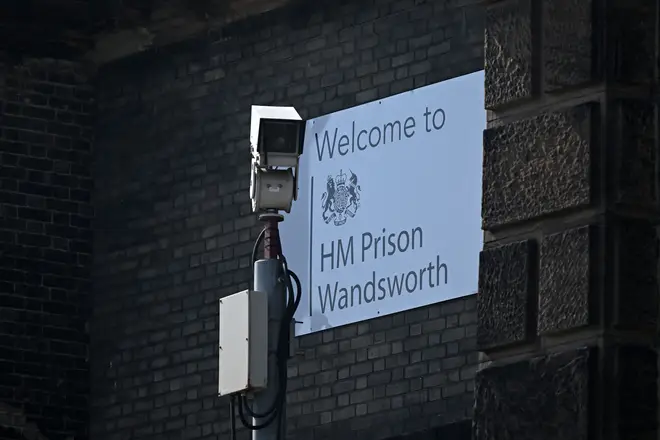 Tens of thousands of criminals may dodge jail as ministers rip up the sentencing rules to make room in overflowing jails.
Justice Secretary Alex Chalk will today announce plans to shake up the justice system as the prison estate reached breaking point.
Fewer than 600 free spots are available in jails in England and Wales as more people are banged up than let out.
A huge backlog of cases thanks to Covid and the toughening up and lengthening of sentences in recent years has led to the prison population spiralling to 88,225 as of last week.
Just 550 spots are now left, despite months of forcing prisons to bunk up two to a cell, and rolling out cells in portable buildings across the estate.
Ministers will today announce plans to order judges not to sentence offenders to jail for short sentences of either six or twelve months, LBC understands.
Last year 37,300 people were handed a sentence of 12 months or less - a staggering 55 per cent of all determinate sentences in England and Wales.
Criminals could get let off with just community service, scrubbing graffiti, a fine, or be fitted with a GPS tag to monitor alcohol or enforce a curfew.
Repeat and serious offenders would still face prison, but judges would be urged to prioritise those over locking up people over low-level crimes.
It means tens of thousands of criminals could dodge jail every year, as ministers move away from shorter sentences.
Most people who are sentenced to 12 months behind bars serve just six months before they are back on the streets, but many go on to reoffend again.
Mr Chalk wrote yesterday: "A short stretch of a few months inside isn't enough time to rehabilitate criminals, but is more than enough to dislocate them from the family, work and home connections that keep them from crime. Too often, offenders routinely turn back to crime as soon as they walk out of the prison gates."
The plans, to be revealed to Parliament on Monday afternoon, will also involve sending thousands of foreign national offenders home even earlier to slash the huge 10,500 people from abroad serving sentences here in the UK.
They will face being deported six months earlier than planned, freeing up thousands of spots in jails for British prisoners instead.
Ministers are also in talks about sending lags to prisons abroad, including Estonia.
LBC understands the UK is in talks with at least three countries about the possibility of using their spaces instead, in new laws expected to be put in the upcoming King's Speech.
Lord Chancellor and Justice Secretary, Alex Chalk said last night: "It's right that foreign criminals are punished but it cannot be right that some are sat in prison costing taxpayers £47,000 a year when they could be deported.  
"Instead of letting foreign nationals take up space in our prisons at vast expense to the law-abiding public we will take action to get them out of the country and stop them from ever returning."
But Downing Street is braced for a huge backlash from Tory MPs who fear the party risks looking soft on crime in the run up to the election - especially as shoplifting offences soar.
A government source said: "We have been bringing on capacity at 100 places a week and pressing ahead with the largest prison build programme since victorian era to cope with it, but it's right we take the long term approach to ensure we can continue to lock up the most dangerous offenders for longer."