Rishi Sunak has 'failed monumentally' to 'humanise' both sides of the Israel-Hamas conflict says Israel expert
19 October 2023, 18:10 | Updated: 20 October 2023, 05:22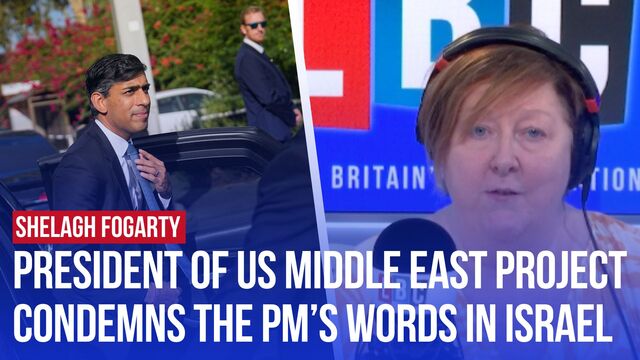 Israel expert condemns Rishi Sunak's words while visiting Israel
President of the US Middle East Project Daniel Levy condemns the Prime Minister's words in Israel as he said "supports Israel's right to defend itself" and "go after Hamas" in a joint conference with Israeli PM Benjamin Netanyahu.
Speaking to Shelagh Fogarty, former adviser in Israeli Prime Minister Ehud Barak's Office, Daniel Levy condemned the Prime Minister's speech in Israel on Thursday morning.
Mr Sunak has met Israeli President Isaac Herzog and Prime Minister Benjamin Netanyahu.
The pair held a brief news conference, in which Mr Netanyahu thanked Mr Sunak for his support, saying the current situation will be "a long war", and Israel will "need" the UK's "continual support".
Replying, Mr Sunak said he welcomed the opening of a humanitarian corridor into Gaza.
Daniel Levy, began by telling Shelagh: "You're not humanising Palestinians by saying that they are victims of Hamas or by saying that Israel has tried everything to prevent Palestinian civilian casualties."
Disappointed by Rishi Sunak's address, Mr Levy asserted: "Can you really not find more appropriate, honest, credible language with which you can talk about the Palestinians?"
Replying, Shelagh said: "Tell me what that would have sounded like?"
Continuing, Mr Levy noted: "Could you not go to the Rafah border crossing?
"Go to Egypt, make a statement from there, if you don't want to do it next to the Israeli prime minister."
Read more: 'I stand with you against the evil that is terrorism': Rishi Sunak's vow to Israel as he arrives in Tel Aviv
Asserting his point to Shelagh, Mr Levy believed it would have been better if Rishi Sunak said "nothing" than to say "Israel is taking every precaution".
"1500 Palestinian children have perished so far...and that has been Israeli bombing" he noted, continuing, "that's been a consequence of Israel closing schools, water, food, medicine, humanitarian supplies."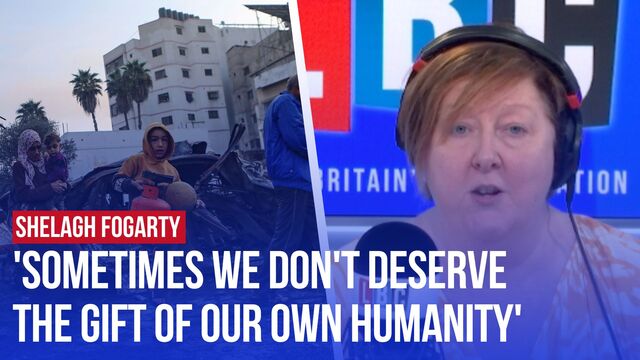 An emotional Shelagh Fogarty shares a message from a friend stressing the 'grief' surrounding Israel and Gaza
The President of the US Middle East Project maintained that "there's a language of inability to humanise both sides" with Rishi Sunak "failing monumentally" to do so.
Voicing his concern for safety back in the UK, Mr Levy told Shelagh "I worry about what that says to communities here who care deeply about Israel" and those "who care deeply about Palestinians".
Read More: Israel-Hamas latest: Rishi Sunak visits Israel as he pledges to stand against the evil of terror
He believed that the job of a "responsible leader" is to try and "walk them both to a place where they see the humanity of the other".
Asserting to Shelagh, he added: "I think Rishi's conspicuously failed to do that".
Highlighting a wider point, Mr Levy focused on the "geopolitics" of the situation, noting the vote yesterday at the U.N. Security Council where the U.K. abstained.
Concluding, Mr Levy stated: "I think that a country that has tried to stand up for international law, for a rules based order in the last 18 months with regard to Ukraine..."
"The rest of the world looks at us now and says, 'yep, we clocked you from the get go, that you're a bunch of hypocrites who apply selective standards and thank you, because you've just proved it to everyone'."
Read More: 'Mommy I'm scared': Final messages of autistic Harry Potter fan, 12, who was killed by Hamas alongside her gran
It comes as Israel prepares for a ground invasion into Gaza after the deadly Hamas attack on 7 October.
Mr Sunak said the Palestinian group represented "pure evil".
The UK Prime Minister has now landed in Saudi Arabia to meet Crown Prince Mohammed bin Salman, as he continues a two-day trip to Middle Eastern capitals.