As it happened: Israeli troops told they will be in Gaza 'soon'
19 October 2023, 10:05 | Updated: 20 October 2023, 02:21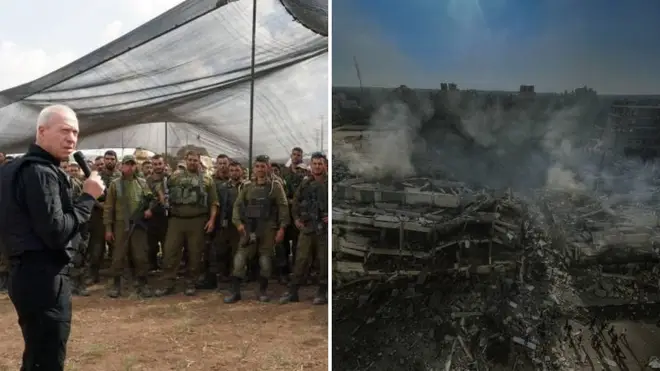 Israeli soldiers were told by the country's defence minister that they will be in Gaza "soon".
Yoav Gallant told the army: "You see Gaza now from a distance, you will soon see it from inside. The command will come."
It comes after Rishi Sunak met with Israel's prime minister Benjamin Netanyahu and raised the need for innocent people trapped in Gaza to be allowed to flee.
Touching down in Tel Aviv, he said: "I am in Israel, a nation in grief. I grieve with you and stand with you against the evil that is terrorism. Today, and always."
Mr Sunak later left for a wider tour of the region, and met with Saudi Arabia's Crown Prince Mohammed bin Salman in the evening.
Read more: 'I stand with you against the evil that is terrorism': Rishi Sunak's vow to Israel as he arrives in Tel Aviv
His visit to Israel came just after Joe Biden's. The US president had arrived in the immediate aftermath of a blast said to have killed hundreds of people at a hospital in Gaza, though he said it appeared to have been carried out by the "other team".
Israel said it did not bomb the hospital, instead blaming Islamic Jihad, another terror group in Gaza, for causing the blast after a rocket malfunctioned.
Here's the day's events as they happened.
Key Updates:
Rishi Sunak visited Israel on Thursday before leaving for a wider tour of the Middle East- view post
He has met with the country's president Isaac Herzog to discuss aid to innocent Palestinians in Gaza
His visit comes a day after Joe Biden, in the aftermath of the hospital blast
Israel blames jihadis for the explosion, saying a rocket malfunctioned
Gaza militants have blamed the Israeli Defence Forces
A British-Israeli Manchester United fan has been named as a victim murdered by Hamas - view post
That's all from us today on Israel-Hamas
Thank you for following along with us.
Joe Biden sending 'urgent budget request' for support for Israel and Ukraine
Joe Biden has said in a speech that he will be asking Congress for more funding so the US can continue to support both Israel and Ukraine.
He said: "Hamas and Putin represent different threats, but they share this in common: They both want to annihilate a neighbouring democracy,"
Rafah crossing 'may still not open for aid on Friday'
The Rafah crossing between Egypt and Gaza is to remain closed to humanitarian aid, according to reports.
That's despite Joe Biden saying after his visit to Israel on Wednesday that lorryloads of aid would pass through to the people of Gaza from Egypt.
Part of the issue is road maintenance, CNN reported, and aid workers also need to make sure there is a consistent flow of supplies.
Omid Djalili cancels performance due to 'personal threats over Israel'
Comedian Omid Djalili has cancelled a gig tonight after receiving "personal threats due to the situation in Israel"
The British-Iranian comic had been due to appear at the Festival Drayton Centre in Shropshire.
US navy shoots down missiles 'possibly heading for Israel'
The US navy has said one of its warships has shot three missiles and several drones launched from Yemen, possibly aimed at Israel.

A spokesperson said: "We cannot say for certain what these missiles and drones were targeting, but they were launched from Yemen, heading north along the Red Sea, potentially towards targets in Israel."
US issues 'Worldwide Caution Alert' for all citizens overseas
The United States government has issued a 'Worldwide Caution' alert.
It warns that "due to increased tensions in various locations", US citizens worldwide should be aware of "terrorist attacks, demonstrations or violent actions against US citizens".
It encourages people to "exercise increased caution" when abroad, particularly in "locations frequented by tourists."
President Biden will deliver an address this evening at 10pm UK time.
Rishi Sunak says 'we will work together' to fix Israel-Hamas conflict
Rishi Sunak has flown to Saudi Arabia from Israel.

"As an international community, we must not allow Hamas's terror attack to become a catalyst for a terrible humanitarian crisis in Gaza," he tweeted.
"We will work together to ensure regional stability and prevent a dangerous escalation."
Israeli troops to soon 'see Gaza from the inside'
Israel's defence minister tells troops gathered at the Gaza border that they will soon see the enclave "from the inside".
"You see Gaza now from a distance, you will soon see it from inside. The command will come … I promise you," Yoav Gallant said, according to a statement released by his office.
The comments suggest a ground invasion could be imminent
At least nine British nationals confirmed dead after Hamas attack
Nine British nationals have now been confirmed dead and a further seven missing after Hamas' attack on October 7.
Some of the missing "are feared to be among the dead or kidnapped", a No10 spokesperson said.
It comes just one day after the Brit death toll was believed to be seven.