Caller fears child protection services will 'only believe' her when her child 'turns up in a body bag'
12 April 2023, 17:10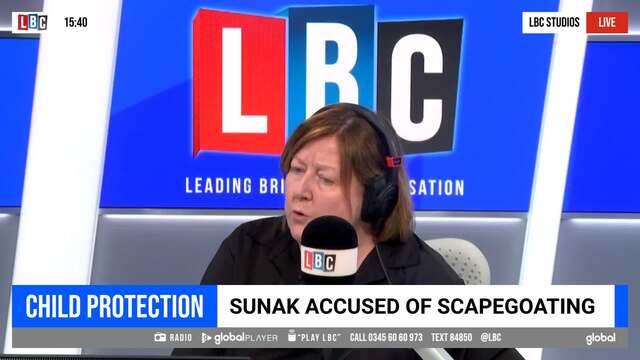 Caller criticises social services for failing to tackle daughter's abuse
This caller details how her ex-partner "took" their child following a dispute over domestic violence claims.
Detailing her experience of domestic violence, this Shelagh Fogarty caller deemed the issue as like "pass the parcel" as "nobody wants to deal with the actual abuser".
Speaking about her ex-partner who displayed violent behaviour towards her during their relationship, the caller accused the police and social services of aiming to "shut the victim up" instead of dealing with the abuser.
When questioned by Shelagh as to whether she'd had any "involvement" with social services about their child when the domestic violence was active, she replied: "It only suddenly came up when he was run down for adoption because of his domestic abuse".
Their conversation arose as social workers have recently criticised Prime Minister Rishi Sunak after he claimed victims of child sexual abuse were ignored by the profession.
The Prime Minister commented during an interview with The London Economic in the wake of the government's announcement to make reporting child sexual abuse mandatory.
Speaking about historic cases where children were sexually exploited by gangs of largely Pakistani men in places like Rochdale, Rotherham, and Telford, he said: "When victims and other whistleblowers came forward their claims were often ignored by social workers, local politicians, or even the police.
"The reason they were ignored was due to cultural sensitivity and political correctness."
Shelagh continued by questioning the caller on what intervention she would like.
The caller replied by saying: "What I want is for my child to be removed from that situation, her mental health has gone through the floor, she's recently been diagnosed with depression, she's having panic attacks, and she was fainting at school through stress."
Emotively the caller described how she felt "no one" will believe her until her daughter "turns up in a body bag".