'We hope she's hiding somewhere': Sister of missing Israeli festival goer fears she is being held hostage by Hamas
12 October 2023, 16:42 | Updated: 12 October 2023, 16:49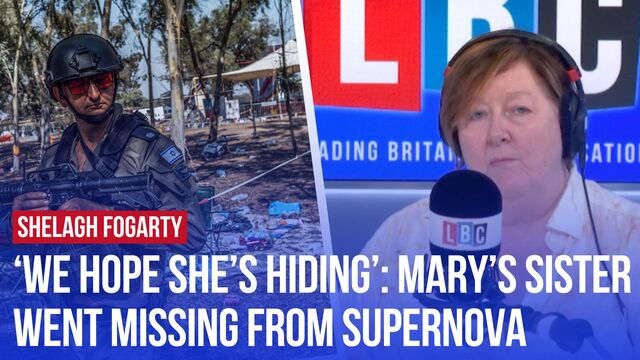 Mary Lobaton, whose sister has been missing since attending the Supernova festival speaks to Shelagh
Mary Lobaton, whose sister Tamar has been missing since attending the Supernova festival in Israel, tells LBC she worries her sister is a Hamas hostage.
The Supernova music festival began at around 10pm on Friday in Kibbutz Re'im, Israel, not far from the Gaza Strip. On Saturday morning the festival was attacked by Palestinian terror group Hamas.
READ MORE: How the Hamas attack at the Supernova festival in Israel unfolded
Tamar Lobaton was one of the young festival attendees and her family are unaware of her whereabouts.
The festival attendee's sister spoke to Shelagh Fogarty five days after the attack in Kibbutz Re'im: "Until yesterday we didn't know anything about Tamar, she is missing since the festival, six in the morning.
"And we don't know anything, the government didn't help us, not the police, not anybody."
Taking matters into their own hands, Tamar's family contacted hackers to try and track down the location of Tamar via her phone.
"Yesterday, some friends helped us, some hackers, to locate her phone. And Tammy was with her three friends and they found four phones together.

"Yesterday the special forces of our army went their with the tanks and they searched. They didn't find anything."
Tamar Lobaton's father has gone out on a second search today, Mary told Shelagh.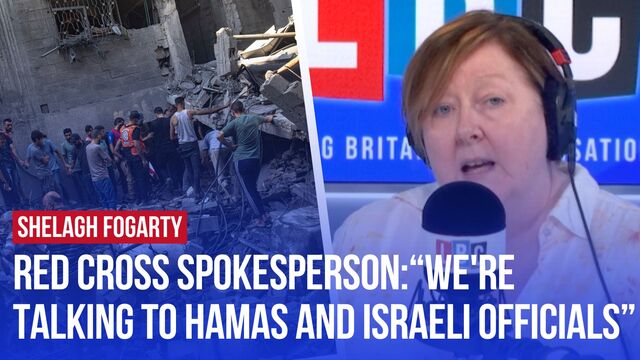 Red Cross spokesperson speaks to Shelagh as talks between hostages and families is anticipated
Trying to keep hope, Mary said: "We hope that she is hiding somewhere because it is possible."
"She could, of course, be one of the hostages, you just don't know?" Shelagh asked.
"Yes, it is possible," Mary confimed. "Everything is possible, in Israel we have a big chaos...there is 600 baddies who don't have DNA, it is terrible what has happened here."
"It's very terrible and very hard," she said before breaking into tears.
READ MORE: Bring them home: Six-month-old baby Ariel among missing Brits in Israel after Hamas massacre
Before the conversation Shelagh spoke to an International Committee of the Red Cross spokesperson, who confirmed that they're in contact with both sides of the conflict to try and organise communication between hostages and their families.
Shelagh asked Mary if this effort gave her any comfort: "I think she will be found," she replied. "I think she is hiding, she went with friends who have been in the army."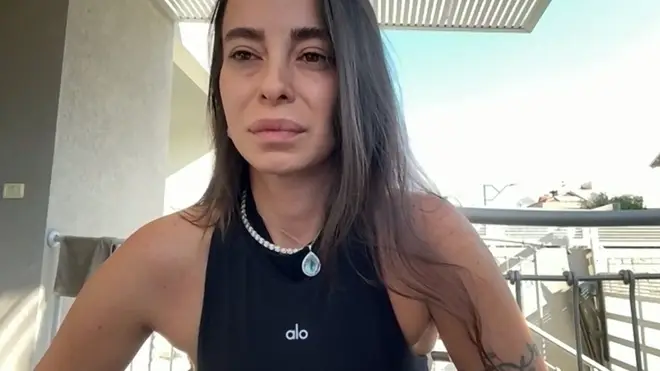 The distraught sister said she is trying to stay positive because she knows how brutal Hamas can be: "I have videos on my phone, that they kill babies, little babies. It's not fake news."
Watch the full interview on Global Player.