Mark Rowley is 'not the person' to deal with the Met's 'toxic, racist culture', says former Superintendent
8 April 2023, 16:52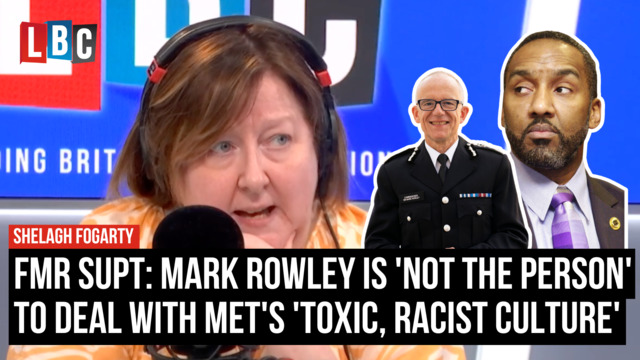 Fmr Supt Leroy Logan: Mark Rowley is 'not the person' to deal with the Met's 'toxic, racist culture'
Former Superintendent Leroy Logan says that a racist culture has "proliferated" in the Met and Sir Mark Rowley needs to be "held to account".
After reports show that the Metropolitan Police's crackdown on rogue officers will not include investigations into past racist issues, former Superintendent Leroy Logan says the commissioner Mark Rowley "is not the person" to expel the "toxic, racist culture" from the force.
Mr Logan, who is the founder of the Black Police Association, told Shelagh Fogarty: "Institutional racism has been a perennial open sore for the Met for decades and it's clear that Sir Mark Rowley is not the person to move the organisation through, and deal with this thing once and for all.
"I commented that he was being very defensive about institutional racism and I now know why, because he has made it clear that he's not going to investigate past racist issues internally and externally."
READ MORE: Who would join the 'rancid' police force now, asks James O'Brien
The former Superintendent went on to say: "It's actually given a green card for racists in the organisation to play out their power and control on black people, whether it's their colleagues or the community. And so we're back to a pre-Macpherson era where the toxic, racist culture has proliferated and there's no accountability.
"If Suella Braverman was the type of Home Secretary to hold Mark Rowley to account, there's no way he could continue with this. It's just the government is allowing this to happen and we are in dire straights and it's a real disappointing situation that we find ourselves in."
READ MORE: Met boss backs banning almost anyone who has caution or conviction from serving in police