Who would join the 'rancid' police force now, asks James O'Brien
6 April 2023, 17:10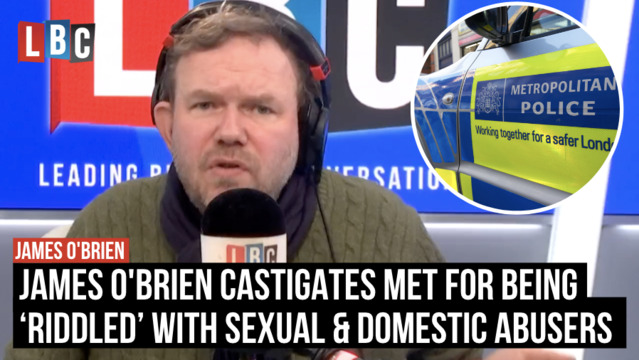 James O'Brien castigates the Met Police for being 'riddled' with sexual and domestic abusers
James O'Brien issued a scathing take down of the police, unpacking the racism, sexism and misogyny that is rife within the Met according to the Casey review.
"Racism, sexism and misogyny. Who is going to be attracted to the police service in the current climate?" asked James O'Brien.
"I think we've probably got an escalating problem despite Mark Rowley's pledge to start rooting people out of the force in their hundreds. Who's going to be attracted to joining at the moment?" he continued.
READ MORE: Met needs to 'woman up' and stop being in denial about who's to blame for its problems, Baroness Casey tells LBC
James asked who would say: "I'm going to go into that rancid service, I'm going to go into that rancid environment and start cleaning up?"
"I think to be fair that is the challenge that mark Rowley has set himself - only time will tell whether he's up to it", he added.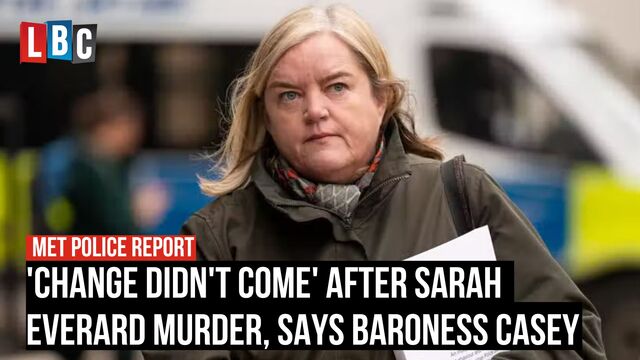 Casey report says Met Police may have more officers like Couzens and Carrick
Considering the public outcry in response to the actions of Wayne Couzens and David Carrick, James asked: "How do you end up with a police service riddled with sexual and domestic abuse claims against officers?"
He noted that "many" of them stay in post but are "only discovered after the emergence of a Metropolitan Police firearms officer being one of the country's most vicious serial rapists".
READ MORE: Andrew Marr: 'The Casey report into the Met reads like a giant roar of rage about the state of Britain's biggest police force'
"You're either guilty of complicit or alienated, chased out of the force...part of the problem, guilty of ignoring the problem or essentially hounded out of the job as a consequence of calling out the problem", he said.