'Government, media, and gender critical movement' fuel rise in LGBTQ+ hate, says broadcaster India Willoughby
15 August 2023, 13:29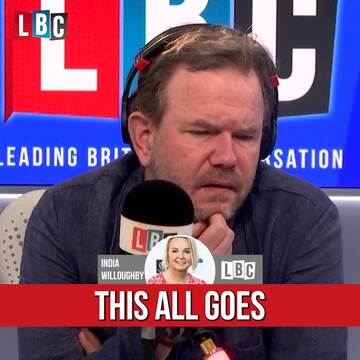 India Willoughby: The government, the British media, and the gender-critical movement are responsible for rise in homophobia
Former Loose Women panelist and trans woman India Willoughby discusses the rise of homophobic attacks.
James O'Brien spoke to former Loose Women panellist and trans woman India Willougby after two men were stabbed outside a Clapham gay bar in a homophobic attack, as police hunt for the knifeman.
The men, in their 20s and 30s, were approached by a man who attacked them with a knife on Sunday before fleeing.
India said to James: "You see attacks on drag queens, drag queen storytime. Now drag is not trans. Drag is gay culture and for me, thugs and bullies, they do not differentiate when you're out and about whether you're gay or trans.
"They're not checking who you are before throwing a punch, you're all the same."
Eyewitness photos showed police tape up outside the Two Brewers, a gay club on Clapham High Street.
The two men were taken to hospital but have since been discharged.
The Met is trying to track down the attacker.
Read more: Police arrest two for 'murder' after triple stabbing in Harrow leaves one dead and two injured
India went on to say: "It's all the responsibility of, to me as somebody who is trans, it's the government, it's British media who stand these flames in a horrendous way and unfortunately the gender critical movement.
"So it's those three components that have all come together and you cannot control hate. Once you give permission to hate one group it goes elsewhere."
Cllr David Robson, on Lambeth council, said: "As someone who was in the venue last night, I thank the Two Brewers' security staff who were exemplary in keeping everyone safe.
"Clapham High Street has faced challenges over the summer with ASB and other violent attacks."
Read more: Man arrested in Turkey and locked up for 20 days 'because he looked gay and was wearing a crop top'