Eco-protesters are 'front of the queue' on the right-wing media's hate list, according to James O'Brien
26 May 2023, 14:16 | Updated: 26 May 2023, 14:36
James picks out alternative 'targets' that right-wing media are focusing on
James picks out alternative "targets" that right-wing media are focusing on instead of the record net migration levels they have covered in the past.
The right-wing media can no longer "attack Labour on the immigration front" says James O'Brien, as Sir Keir Starmer is beginning to "sound like Rishi Sunak".
Questioning the next move of right-wing newspapers, James exclaimed: "They find another target."
It comes as net migration figures have hit record levels of 606,000, which Rishi Sunak described as "too high".
He hypothesised as to what the next target would entail, stating: "So don't be surprised if you hear people encouraging you to hate on unemployed, people on sickness benefit, or disability benefit, people who can't work, and benefit claimants who can't seek work."
READ MORE: 'Utterly contemptible' Just Stop Oil target 'Britain's greenest event' the Chelsea Flower Show as three arrested
At the "front of the queue" to be targeted are the eco-protesters according to James, who outraged by this stated: "The idea that throwing a little bit of paint around at the Chelsea Flower Show, is national front page news is objectively ridiculous right?
"Objectively ridiculous, in a country with a cost of living crisis, energy bills still absolutely sky high, and massive problems with inflation."
The IMF anticipated that the UK economy would curtail recession this year, as it expects the UK to grow by 0.4% in 2023, whereas last month it forecast the economy would contract by 0.3%.
Listen and subscribe to Unprecedented: Inside Downing Street on Global Player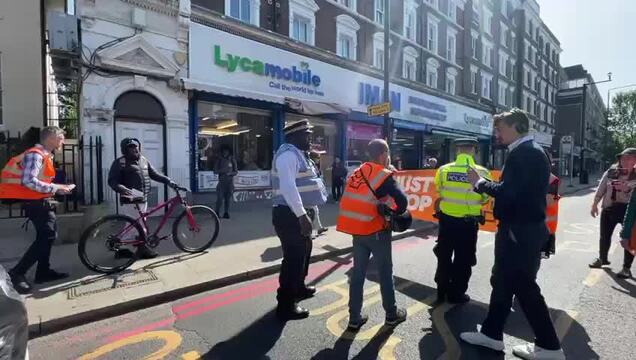 Just Stop Oil protesters block man who 'needs to urgently go to hospital'
James praised Jeremy Hunt for rectifying the economic damage Kwasi Karteng and Liz Truss left in their wake, however, he also highlighted the "current state of the UK" and questioned why the "biggest story in town is a few environmental protesters throwing some paint around at the Chelsea Flower Show".
READ MORE: 'I don't believe that's the case: Just Stop Oil activists refuse to make way for man 'urgently heading to hospital'
Continuing, James focused his frustration on the Daily Mail, stating: "The same people that persuaded us to vote for Brexit or persuaded us that immigration was the roots of all evil.
"Who are they going to go after next? Eco protestors and people on disability benefits."
Concluding, James affirmed his beliefs by asserting: "If it's Brexit related, I haven't got a prediction wrong yet!"