SNP MP John Nicolson cleared of bullying accusations made by Nadine Dorries
20 June 2023, 13:52 | Updated: 20 June 2023, 15:29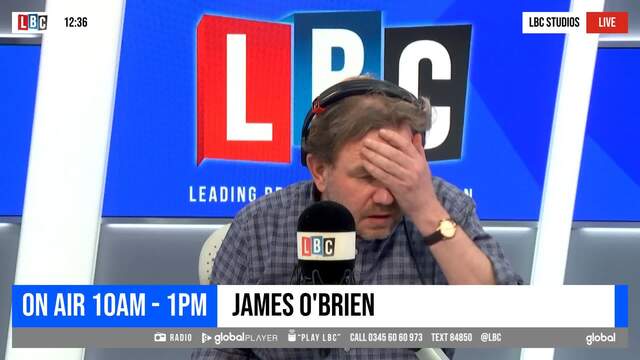 John Nicolson speaks to James O'Brien after being cleared of Nadine Dorries' bullying allegations
SNP MP joined James O'Brien after he was cleared of bullying allegations made by ex-Culture Secretary Nadine Dorries.
SNP MP John Nicolson spoke to James O'Brien moments after being cleared by a Westminster standards panel.
Mr Nicolson recounted the "stressful" experience to James: "Just after she quit, Nadine Dorries made a series of complaints about me bullying her. So this has been hanging over my head for months.
"I think the worst thing anybody could every say about me is that I am a bully, no one's ever called me a bully in my entire life."
Listen to James O'Brien's podcast Full Disclosure on Global Player
He continued: "I didn't bully Nadine Dorries, she throws the word bully around with gay abandon."
After praising the complaints process that is in place, Mr Nicolson said: "This is unprecedented for one MP, in this case a secretary of state, to allege that her opposite number is bullying her. Bullying does not involve giving somebody a hard time cross examining them.
"Nadine Dorries uses the word bulling when she means thwarting or criticising or questioning."
READ MORE: James O'Brien slams Nadine Dorries' honours snub 'sob story'
James asked: "Is there a parliamentary equivalent to wasting police time or bringing vexatious allegations forward in this context?"
The SNP MP responded: "If you watch Westminster you'll know that most of Westminster is a waste of time, it's an ongoing process... as far as I know, there is no such process but I really think the procedures should be confined to members of the parliamentary estate who are making complaints about members of parliament."
READ MORE: Nadine Dorries to stand down as MP with 'immediate effect' setting up tricky by-election for Rishi Sunak