James O'Brien ridicules anger over Sue Gray appointment as he lists Tory transgressions
3 March 2023, 12:43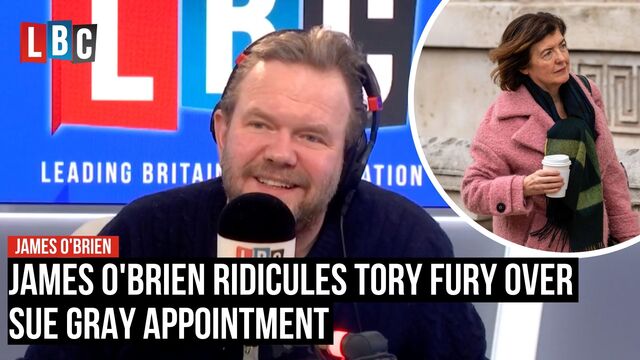 James O'Brien ridicules Tory fury at Sue Gray
James O'Brien ridiculed the fury surrounding Sue Gray becoming Keir Starmer's chief of staff as he compiled a damning list of Covid rule breaches by the Tories.
After some Tory MPs expressed anger that Partygate investigator Sue Gray was offered a job as Sir Keir Starmer's chief of staff, James O'Brien ridiculed the MPs, claiming they were unsure of what they were "supposed to be angry about".
James took aim at Boris Johnson's original appointment of cabinet secretary Simon Case to undertake the Partygate investigation, despite his implication in the rule breaches.
James commented: "The question of independence was of course never really questioned."
READ MORE: Sue Gray joining Labour shows Partygate was 'deliberate and manufactured plot', Boris Johnson ally claims
Referring to Ms Gray, James said: "Imagine she was the most biased, partisan, utterly twisted, completely corrupt human being that had ever walked the earth.
"How could she have manufactured all the evidence that led the met police to issue 126 fines?"
"Go on seriously, riddle me that", he added.
James continued: "It's quite funny listening to them trying to work out what they're supposed to be angry about."
He then mocked the anger of some Tory MPs, imagining them asking 'what if Boris Johnson had appointed her?"
"He did", he responded.
"How does the appointment of Sue Gray as Keir Starmer's chief of staff somehow render her responsible for the broken swing, the wine fridge, the suitcases full of booze, the sexual relations, the parties, the karaoke, the vomit all over the corridors."
He finally asked: "How does Keir Starmer giving her a job somehow make her responsible for all of those things that led the metropolitical police quite independently to issue 126 fines?"
READ MORE: Covid rule breaches would have been 'obvious' to Boris Johnson at several gatherings, privileges committee says