'A liar': Riled publican who heckled Rishi Sunak at beer festival says the PM's 'no better than his predecessors'
2 August 2023, 15:46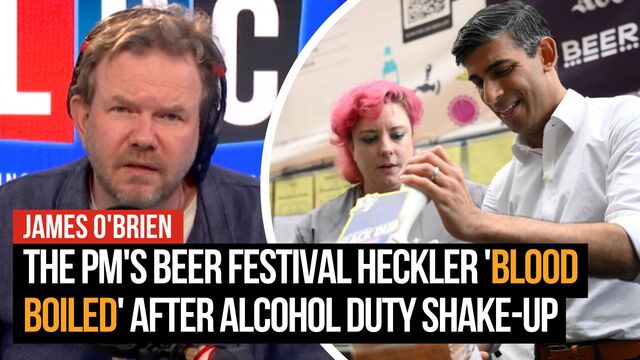 Rishi Sunak heckler speaks to James O'Brien
With drinkers encouraged to cut back, as a tax is slapped on all alcohol based on its strength, this publican heckled the Prime Minister over this decision.
The Prime Minister faced heckling at a London beer festival this week, as a change in alcohol duty comes into effect.
Whilst pouring a pint of Black Dub stout at the festival, a person interrupted to say: "Prime minister - oh the irony that you're raising alcohol duty on the day that you're pulling a pint."
Rudi Kyser, the publican who exclaimed the remarks, began by explaining his reasoning to James O'Brien, stating: "Times are tough for the pub industry."
Continuing, Mr Kyser said: "Why I got so riled up, is in the last few weeks, the pub chain that I work for has been bulk buying alcohol to get in early before the rise."
Rishi Sunak's visit fell on the same day that a new system came into force that saw all alcohol taxed based on its strength, rather than the previous categories of wine, beer, spirits and ciders.
The increase will see duty rise by 44p on a bottle of wine - a measure that was announced a few months ago in the budget.
Read More: Rishi Sunak's daughters are his 'ready made focus group' as PM says fossil fuels will still be needed at net zero
When combined with VAT, the increase per bottle will be 53p, the Wine and Spirit Trade Association (WSTA) said.
Noting his anger Mr Kyser said: "To see him pulling a pint under this guise of saving money just absolutely got my blood boiling.
"And you're right to use the L word, he is an absolute liar, and no better than his predecessors."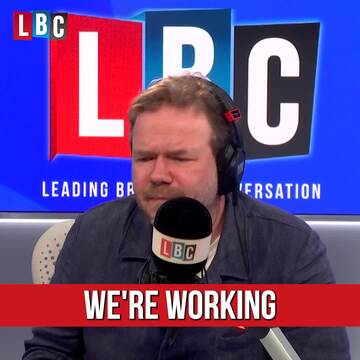 James hears from furious pub landlord
Read More: Nadine Dorries is not 'properly representing' her constituents Rishi Sunak tells LBC after she pledged to quit
Reacting to the Prime Minister's new legislation, James O'Brien said: "You've changed the rules a bit, pretending it's a benefit of Brexit.
"You're telling publicans that you're doing them a favour, and publicans so far are unanimous in the view that it's nothing of the sort."
In March, Chancellor Jeremy Hunt said a freeze on alcohol duty would end on 1st August and increase in line with the Retail Price Index measure of inflation.
All varieties of alcohol are affected, meaning duty on an 18% cream sherry will go up from £2.98 to £3.85.
Read More: 'You're the Prime Minister. Your staff aren't happy': Sunak defends NHS record in testy exchange with junior doctor