Rishi Sunak's daughters are his 'ready made focus group' as PM says fossil fuels will still be needed at net zero
2 August 2023, 10:51 | Updated: 2 August 2023, 11:02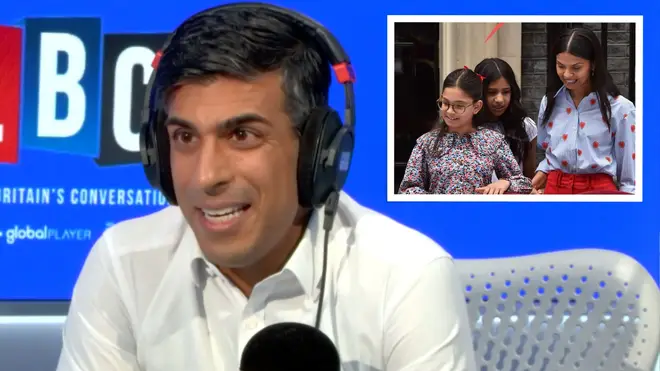 Rishi Sunak has said his daughters are his "ready-made focus group" on climate change, revealing that fossil fuels will still be needed at net zero.
Speaking during a phone-in exclusive on LBC's Nick Ferrari at Breakfast, the Prime Minister said he would explain to his children why he believes his decision to ramp up North Sea oil and gas exploration is right, despite needing to reach net zero by 2050.
"In the same way I'm explaining it to everyone else listening, I'd make the same case to them," Mr Sunak said.
"We are going to get to net zero but even when we're there we will still need fossil fuels."
He added: "Like most people, they're not eco zealots, they're open to sensible, practical arguments."
"We have good chat around our table about all these things," the PM said. "I've got two girls who have quite different views on things between the two of them which is fun at home. I've got a ready-made focus group."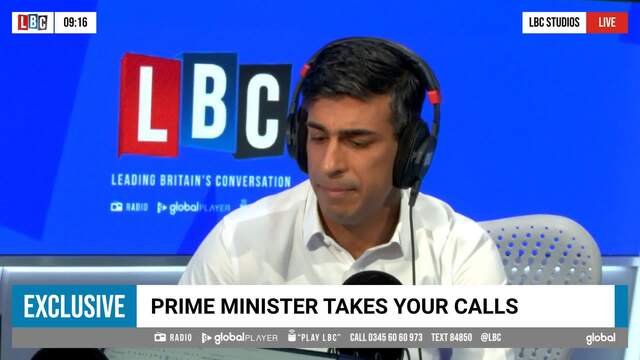 Nick Ferrari puts comments from the UN Secretary-General about 'dangerous radicals' to Rishi Sunak
It came after Mr Sunak said the UK's record is "fantastic" when it comes to cutting emissions, adding that among all G7 countries, the UK was the fastest to have decarbonised.
"We should not take any lectures from anybody about our record - our record is fantastic - it's better that everyone else's," he said.
"Are we doing the right thing?" Mr Sunak asked. "Of course we are, we're transitioning to net zero, we're increasing the amount of renewable energy..."
He added that the largest offshore wind farms in the world were in the UK.
Read more: Rishi Sunak tells homeowner facing £2,700 monthly mortgage repayments: 'Talk to your bank'
Read more: Rishi Sunak insists 'small businesses are booming' after resident tells him four closed in his constituency last week
"We are making progress but it is absolutely right to get energy from here at home as we transition," Mr Sunak said.
He explained that it would help with security, the economy, and generate tax to help with areas like the NHS.
He added that getting energy shipped here "will come with three or four times the carbon emissions" too.
"The right, sensible thing to do is to use the energy we have here at home as we transition to net zero - which we're going to do," the PM said.
"This is a part of doing that and doing it properly."