Rishi Sunak tells homeowner facing £2,800 monthly mortgage repayments: 'Talk to your bank'
2 August 2023, 09:13 | Updated: 10 August 2023, 06:00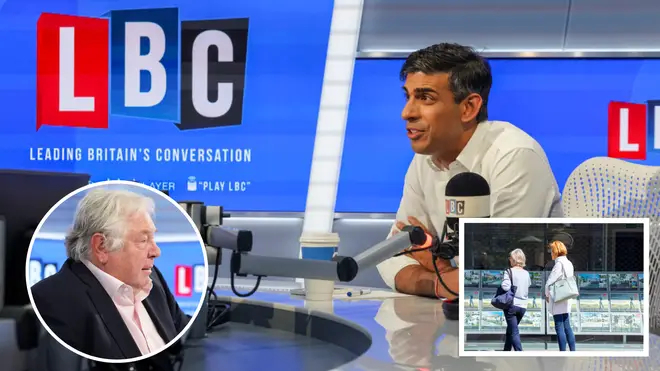 The Prime Minister has told a father-of-four facing a huge hike in his mortgage payments to simply "talk to your bank."
Rishi Sunak was taking calls from LBC listeners today and he said he's "determined… to bring inflation down to everyone."
But the Bank of England is expected to raise interest rates again tomorrow with predictions It could rise from 5 per cent to 5.25 per cent - in yet another blow for struggling families.
"Families are struggling with the cost of living - it's not as fast as I would like but we are heading in the right direction. Inflation is coming down," Mr Sunak said.
Mr Sunak highlighted 'easements' put in place by the government, adding: "We don't want people to lose their homes."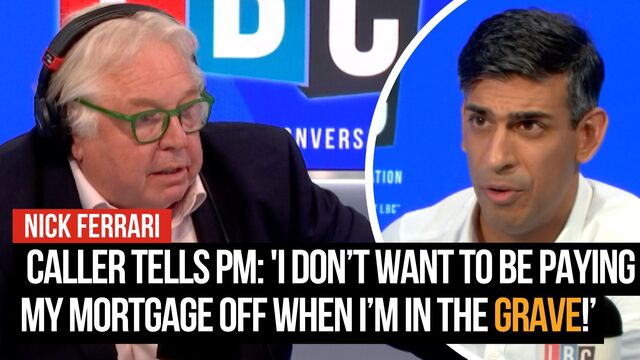 Rishi Sunak tells this Nick Ferrari caller that 'you've got to trust me' in bringing inflation down
Listen to the Prime Minister LIVE on Global Player
Giving advice to a struggling homeowner, Jack - who said he feels like he is being 'punished' for paying into the system all his life, Mr Sunak said he should "talk to your bank."
Jack said he is facing a rise from £1,500 to £2,800 a month in mortgage repayments and asked: "Why do I feel like I'm being unfairly punished?"
He said he had the option to extend his term by five or ten years or switch over to an interest only mortgage, albeit temporarily.
Read More: Rishi Sunak insists 'small businesses are booming' after resident tells him four closed in his constituency last week
Read More: 'People are going to be put on it': Rishi Sunak defends Bibby Stockholm migrant barge insisting it is 'not a shambles'
Read More: Off to the Galaxy's Edge: Rishi Sunak 'very excited' about family holiday to Disneyland California
Jack replied: "I'm already on a 35-year term. I'm in my early 30s. I don't want to be paying it off until i'm in the grave."
Mr Sunak responded: "Jack, the best way for me to help you and your family and everyone else is to get inflation down.
"It's not abstract - it's inflation that is causing everyone problems with their bills. The quicker we get inflation down the quicker we can ease some of these pressures.
"I know how to manage the economy for everyone.
"The quicker we bring inflation down, the quicker we can bring interest rates down and ease that pressure for homeowners."
Asked whether people can keep on 'holding their nerve,' Mr Sunak said: "That's why we've put in place these easements.
"If you do some of the things I'm talking about, that will give you that relief in the short term. We've got to stick with the plan."
In June a series of measures were agreed with mortgage lenders aimed at supporting people who are struggling with their repayments.
Banks met the Chancellor two months ago and agreed there will be a minimum 12 month period before a home is repossessed.
Borrowers will also be able to make a temporary change to their mortgage terms, for example by switching to an interest-only deal, then will be able to return to their original deal within six months without impacting their credit scores.
The three measures:
• Speaking to your bank if you are struggling has no impact on credit score
• Change to interest only or extend mortgage term - for six months no questions asked
• Minimum 12-month period before repossessions can occur
Chancellor Jeremy Hunt hailed the "important" agreements with banks and lenders.
"There are two groups of people that we are particularly worried about. The first are people who are at real risk of losing their homes because they fall behind in their mortgage payments," he said.
"The second are people who are having to change their mortgage because their fixed rate comes to an end, and they're worried about the impact on their family finances of higher mortgage rates."