'People are going to be put on it': Rishi Sunak defends Bibby Stockholm migrant barge insisting it is 'not a shambles'
2 August 2023, 09:56 | Updated: 8 August 2023, 06:11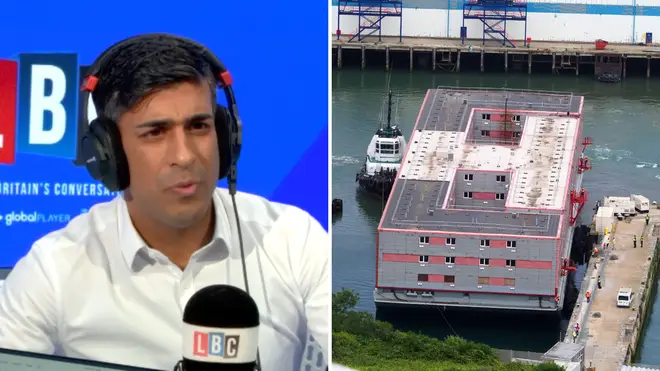 Rishi Sunak has insisted the Bibby Stockholm migrant barge is not a "shambles" after the introduction of migrants was delayed following failed fire safety checks.
Speaking exclusively to LBC's Nick Ferrari at Breakfast, Mr Sunak said it is "completely unfair" that UK taxpayers are baring the burden to house migrants in hotels, stressing the importance of introducing the Bibby Stockholm.
Asked by Nick why the rollout of the migrant barge, which arrived in Portland, Dorset, several weeks ago, has been such a "shambles", Mr Sunak said: "It hasn't."
"The point here is not is it yesterday, is it next week, this is an example of me doing something different that hasn't been done before to help solve a serious problem," he said.
"There is a barge here, people are going to be put on it, which will ease pressure in local communities."
Rishi Sunak joined Nick Ferrari at Breakfast to take your calls | Watch Again
"Let's take a step back," he said. "We're trying to end the unfairness of the current system.
"British taxpayers shouldn't be stumping up millions of pounds to house illegal migrants."
"It's unfair to the people that come here legally!" he added.
Read More: Nadine Dorries is not 'properly representing' her constituents Rishi Sunak tells LBC after she pledged to quit
Read More: Rishi Sunak insists 'small businesses are booming' after resident tells him four closed in his constituency last week
It comes amid fears the Bibby Stockholm migrant barge could become a "floating Grenfell" after recent fire checks raised serious safety concerns.
The controversial migrant barge had been set to accept its first 50 asylum seekers on Tuesday, but the local fire service has not yet given it its stamp of approval amid safety concerns.
More than 500 migrants are expected to be house on the Bibby Stockholm, more than double its 222-person capacity. There will also be 40 additional staff members on board.
There are now serious safety concerns given the barge's layout, which comprises 222 cabins of long, narrow corridors over three decks. There are two primary exits on board.
A source within the local fire service recently said a safety check carried out last week sparked safety concerns, while another source described the Dorset & Wiltshire Fire and Rescue Service as "very critical on a number of safety issues".