Ex-RAF caller tells James O'Brien of horror discovery during service in Iraq
20 March 2023, 14:24 | Updated: 20 March 2023, 14:27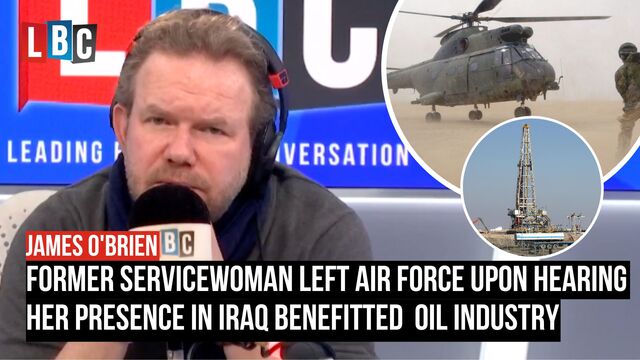 Caller left the Air Force when she realised her presence in Iraq was benefitting the oil industry
Detailing her experience in the air force in Iraq, this caller tells James a "bitter taste" was left in her mouth when she discovered the UK government "were signing oil contracts" with the country.
Serving as part of the Royal Air Force during the UK's invasion of Iraq between 2003-2011, this caller tells James a "bitter taste" was left in her mouth after she discovered hidden deals between the UK government and the oil industry in Iraq.
Remaining optimistic when first deployed the caller told James: "You went out initially with this feeling of we are gonna go, we are saving these people very much the world war two thing, where the heroes are going to do the right thing and gradually as you progressed through your tour we kind of realised that this actually wasn't being done for the right reasons."
READ MORE: Emotional former Tank Commander tells Nick Ferrari 'I lost everything' in Iraq 'for what?'
Their conversation marks the 20th anniversary of the American-led invasion of Iraq, which saw the collapse of Saddam Hussein's dictatorship.
The US invaded Iraq as part of its "war on terror" after the Al Qaeda attacks on Sept. 11, 2001. Former Prime Minister Tony Blair, supported the American assault, launching the country into conflict on 20 March 2003.
READ MORE: Iraq expert says Iraq would be better off under Saddam Hussein
During her tour, the caller detailed how she "gradually realised" the government had alternative intentions behind the war, noting it "wasn't being done for the right reasons".
Detailing the moment she realised the UK government and oil firms were signing contracts with Iraqi oil facilities, the caller said: "I remember my friend coming back from R&R, and she had seen the papers."
READ MORE: Suella Braverman 'encouraged' by talks with European Court of Human Rights as she prepares Rwanda migrant push
"We were sat on a nightshift and were talking about what was going on and when we realised they were signing oil contracts, we sat there and said we're not here for mass destruction, its to get Saddam out and for the oil contracts," she told James.
Upon learning the truth, the caller claimed it "left a really really bitter taste in your mouth", adding that she left the Air Force shortly after her tour.