'Royal blood - nonsense!': James O'Brien caller rebukes King's Coronation amid cost of living crisis
2 May 2023, 13:46 | Updated: 2 May 2023, 13:48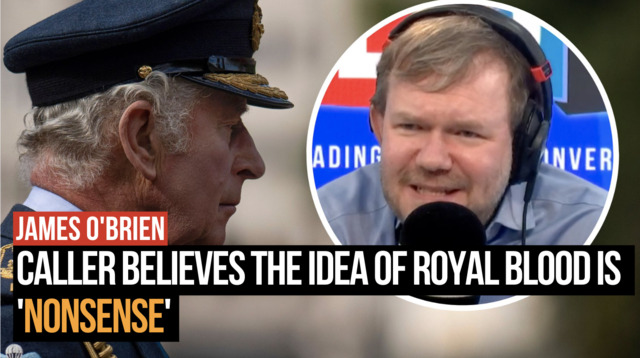 Caller filled with 'rage' about the monarchy
This caller who is filled with "visceral rage" whenever she looks at the King and Queen Consort says the Coronation exposes the "horrendous inequalities" within the UK.
Jenny in St Albans told James O'Brien: "I've always felt that there was something inherently wrong about people having a position by virtue of birth - the notion of royal blood, I think it's nonsense, but I think one is just accepting of the monarchy.
"When we had the Queen, the Queen was always there, the Queen was part of the furniture, the pageantry seemed to work with the Queen in a way.
"But I find myself looking at our King and Queen and feeling a visceral rage which comes from nowhere."
"Really?" James asked, which the caller confirmed.
"I look at them and I think, 'How very dare you!'", Jenny continued. "There is a kind of incongruence between these individuals...it's partly to do with the utter state of the country at the moment."
READ MORE: 'There's strong evidence for it': Caller believes the monarchy was chosen by God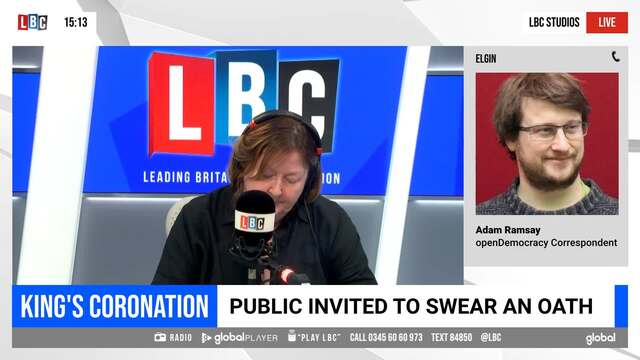 Adam Ramsay reacts to the public being invited to swear an oath
"Public money being spent on this enormous great big junket, when people are struggling to feed their families, people are struggling to heat their houses - it feels wrong", she added.
The caller said the monarchy exposed the "horrendous inequalities" in the UK and compared it to the "faux patriotism" of Brexit that the monarchy "gets its oxygen from".
READ MORE: Royalist caller urges King Charles to step aside 'and let William take the throne'
This prompted James to say he felt that Queen Elizabeth was "pretty gutted" by Brexit and King Charles "has made a couple of interventions that would suggest he also understands the idiocy of it as a national policy".
He added that the 2016 vote exemplified the prioritisation of "flags and feelings" over "facts and figures", and that those who are more likely to be led by the former are also more likely to favour the monarchy.
Jenny agreed, saying: "It's all about nostalgia."