'A bit Game of Thrones': James O'Brien 'baffled' by the King's Coronation
2 May 2023, 15:33 | Updated: 2 May 2023, 15:40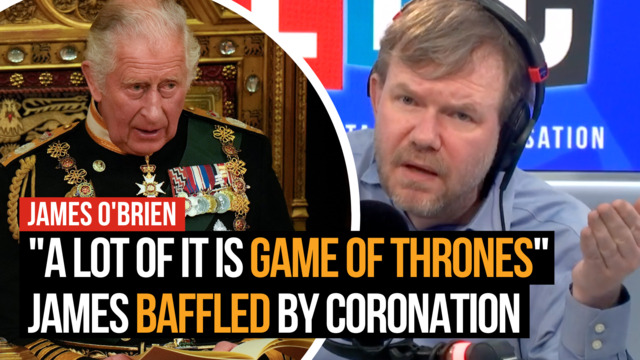 James O'Brien shares thoughts on the monarchy since QEII passed away
The 'pomp and pageantry' of the Coronation isn't surprising, James O'Brien says but his feelings towards the appointing of a new Monarch are.
James O'Brien stressed he does not want to "abolish the Monarchy" but he explained how his feelings towards the King's Coronation have "surprised" him.
He pointed to how, when looking at it objectively, he feels "baffled" by the royal event:
"The sight of a man wearing golden robes and getting into a jewel-encrusted carriage, a hat made of diamonds..." James began, "I'm a little bit surprised to find myself baffled by it actually,
"Because you can't be surprised by it - you knew it was coming," he went on, "you were familiar with all of this pageantry, this pomp."
READ MORE: Royalist caller urges King Charles to step aside 'and let William take the throne'
Then James pointed to the traditions of a Coronation: "If you have a sort of passing knowledge of history - of English history, British history - you know about the Stone of Scone. You may not have known about the anointing spoon...
"I think, is the word Chrism?" he asked referring to the "holy oil that is sprinkled on the [King]".
"I mean there is a lot of stuff that is a little bit, or a lot a bit Game of Thrones going on at a Coronation, " he joked.
Analysing his feelings, James said: "You change your mind about the monarchy when the monarch changes, perhaps."
He said, "Because the late queen lived to such a grand old age" the opinion of her is likely to be different to King Charles who seems to have "slot into this position".
READ MORE: 'Royal blood - nonsense!': James O'Brien caller rebukes King's Coronation amid cost of living crisis