'Accruing credits to get to the next level': James O'Brien compares today's politics to a 'video game'
5 September 2023, 13:23
James O'Brien and this caller discuss recent controversies
Amid the concrete crisis, James O'Brien and this caller discuss recent political scandals comparing politicians accumulation of "credits" to a "video game".
Caller Eddie began by expressing to James O'Brien the importance of politicians taking account.
He said: "I believe you should get into politics because you want to make the country a better place, not make it worse."
He then summarised the various past scandals the Conservative Party has been involved in, citing the Grenfell, Covid, and Windrush inquiries.
Eddie added: "How long does it take for things to be done? There's always excuses."
James then inspired by the anniversary of Liz Truss' premiership said: "It's as if it's a video game and they're accruing credits to get to the next level.
"She spent her whole time in international trade in the Foreign Office, accruing bogus credits claiming that this trade deal was brilliant, and that this trade deal was amazing, and that this rollover was not a rollover at all but actually a wonderful brave new sunlit upland.
"And the Tory membership swallowed it and that's how she ended up leader of the Conservative Party and very briefly Prime Minister."
James continued, referencing Education Secretary Gillian Keegan's recent upset about not being credited for her on work tackling the RAAC concrete crisis.
He said: "So you look now to this generation of Tories and she's thinking 'I need credits in this job.'"
He continued pontificating on Mrs Keegan's motivations: "'I need to accrue credits to move up to the next bonus level and no one's giving me any credit despite the fact I've actually turned up to work."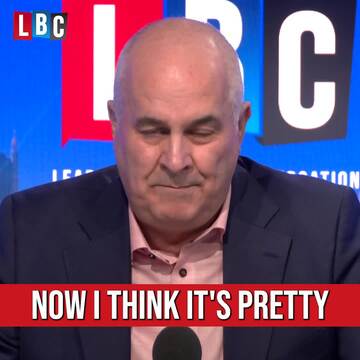 Iain Dale disputes ITV's decision to publish Gillian Keegan interview
Read more: 'I don't think it's funny': Liz Truss says being compared to a lettuce was 'puerile' after 44-day stint as PM
Read more: Liz Truss suggests mini-budget may have paid off long-term
Eddie then criticised the Education Secretary for being caught swearing on camera.
James replied: "I don't know about that. I like your moral compass and I wish more people had that," before joking about his own off-air expletive tendencies.
He concluded: "I think the camera being off, gives us some defence on that front."