'What the hell explains them giving him a column!': James O'Brien puzzled by the Mail's endorsement of Boris Johnson
16 June 2023, 15:22 | Updated: 16 June 2023, 15:34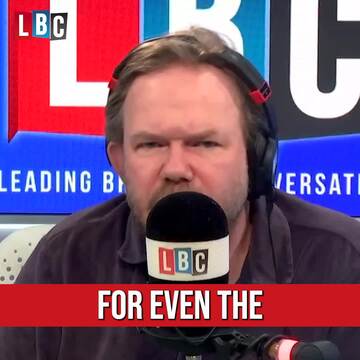 James think Partygate saga is 'chapter level' in the history of British politics
Now that the "irrefutable" evidence against Boris Johnson is "complete", James O'Brien is baffled as to why people and organisations still "pop up to defend" him.
Following the conclusion of the Partygate inquiry and the news that Boris Johnson will now have a weekly column at the Daily Mail, James O'Brien told listeners: "For even the most cursory student of political history this is epochal, this is chapter-level stuff in the history of British politics."
During the announcement the Daily Mail Online Twitter account described Boris Johnson as "one of the wittiest and most original writers in the business" and in a video shared by the paper, Mr Johnson said: "I am thrilled to have been asked to contribute a column to the Daily Mail."
He continued: "This is Anthony Eden, Neville Chamberlain, Lord North, this is the catalogue of the worst ever Prime Ministerial moments. It's a contender for the very top spot, and still, these people pop up to defend him."
Read More: Tory MPs divided over Boris: Jacob Rees-Mogg slams 'vindictive' report that will 'help not hinder' former PM's return
Read More: 'I have read hundreds of parliamentary reports but never one like this': Ben Kentish's Partygate report analysis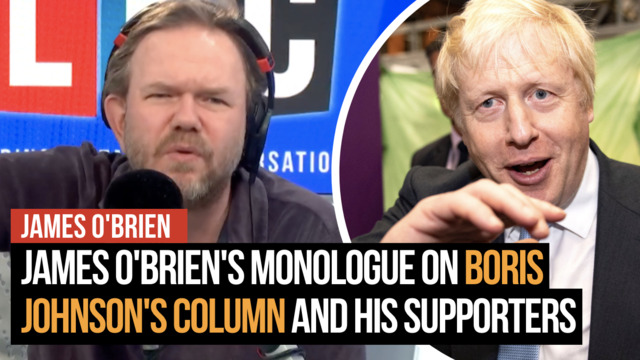 James O'Brien on Boris Johnson's column
Listen and subscribe to Unprecedented: Inside Downing Street on Global Player
After listing out some of the names of people who have continued to support Boris Johnson in recent days, "Guto Harri, Jacob Rees-Mogg, Nadine Dorries, Brendan Clarke-Smith," James sighed and said: "It's incredible."
Drawing an analogy from the folktale The Emperor's New Clothes, James said: "So now that we are having our noses rubbed in the emperor's nakedness so completely that you wonder if you'll ever be able to wash off the stench - what the hell explains the Daily Mail giving him a column?"
He elaborated on this point: "Now that the evidence is so complete, so irrefutable, so insuperable, what the hell explains these people?"
The Mail said the first column by the former Prime Minister, for Saturday's paper, would appear online this evening.
Read More: 'He used the Conservatives!': Boris Johnson's ex-girlfriend Petronella Wyatt claims ex-PM has 'never had a Tory idea'