'Flags and feelings prioritised over facts and figures!': James O'Brien realises perfect Brexit summary
12 April 2023, 13:44 | Updated: 12 April 2023, 13:53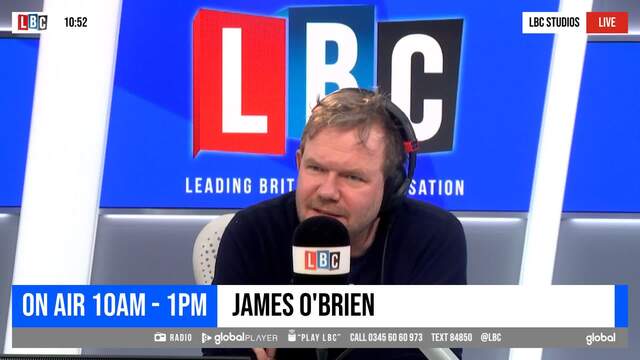 James O'Brien finds the perfect phrase to explain how Brexit happened
On the back of political problems in Northern Ireland, James O'Brien finds the perfect phrase to sum up the situation in NI and Brexit.
James O'Brien soliloquized on Northern Ireland as it hits the headlines this week with US President Joe Biden visiting Northern Ireland and Ireland.
He criticised the DUP, who have refused to take their seats in the Northern Irish parliament Stormont, saying:
"You can say with a degree of certainty the DUP's real beef is not really with the pet food checks or whatever...it's with the second fiddle that they would normally play in the event of Stormont returning."
He continued: "The idea of playing second fiddle to nationalists is just inconceivable for them."
Sinn Fein won the last election in Northern Ireland last May, meaning Michelle O'Neill will hold the position of First Minister if Stormont returns.
READ MORE: Union leader behind junior doctors' strike criticised for holiday during 'largest-ever' NHS walkout
James went on: "If you wanted to look at the border and regulatory framework and the laws that Northern Irish businesses are required to pressure...you can only understand this by looking through the lens of prioritising flags over feelings...
"It is precisely the same impulse that delivered Brexit."
He expanded: "Flags and feelings were the fuel in the engine of Brexit.
"Some of those feelings were very very ugly."
READ MORE: Grenfell families settle claims against building firms but say that justice will still be served
James then found the perfect phrase to sum up both the unfolding situation in Northern Ireland and Brexit:
"The prioritisation of flags and feelings over facts and figures will explain pretty much everything bad that has happened in the UK since 2016."
He joked: "I can't believe I've only just come up with that, I must've been dancing around that phrase for the best part of half a decade!"