Ex-Met Officer tells James O'Brien: 'you give up trying to fight'
21 March 2023, 13:39 | Updated: 21 March 2023, 14:04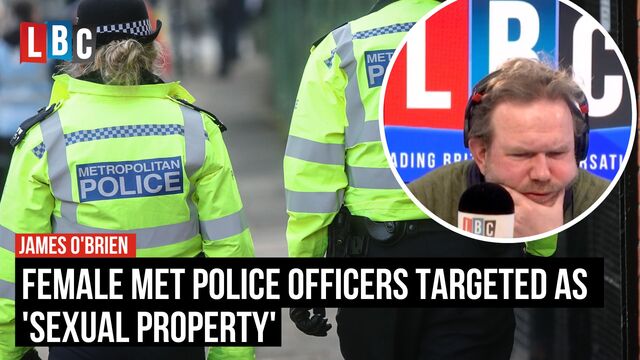 Met Police officer says female officers are targeted as 'sexual property' by married men
This caller recounted her experience as a Met Police Officer and the organisation's "toxic" culture, in which "officers go around beating their chests to be the alpha."
Michelle in Ealing told James O'Brien how, during her time as an officer, female members of staff were "targeted as sexual property," often by married men whose wives "had no idea what their husbands were like at work."
She then described how these attitudes made the Met a demoralising place to work, saying it "beats you down." She realised "the media hate us, people on the street hate us," and this made her feel like it would be futile to try and fight the "horrible" workplace culture.
READ MORE: The Casey review kicks off a long overdue turnaround, writes Rory Geoghegan
Michelle painted a grim picture of life as a Met Police officer, with attitudes of misogyny and homophobia rife within the organisation and a "constant barrage" from the media and the public.
"You give up trying to fight the fight," she said wearily.
When asked about Baroness Casey's damning report released earlier today that found issues of misogyny and homophobia in the Met, Michelle was quick to point out "there are pockets of people that don't accept that we are what you're saying we are."
"Have I become complicit? Yes, because I've heard it, but I've not done anything about it," she admitted.
James clarified that Michelle had been a victim of the Met's institutional problems, which affect its staff because "you have no choice but to join in or be complicit".