Furious James O'Brien caller suggests Prince William sells his assets to 'end homelessness'
26 June 2023, 15:32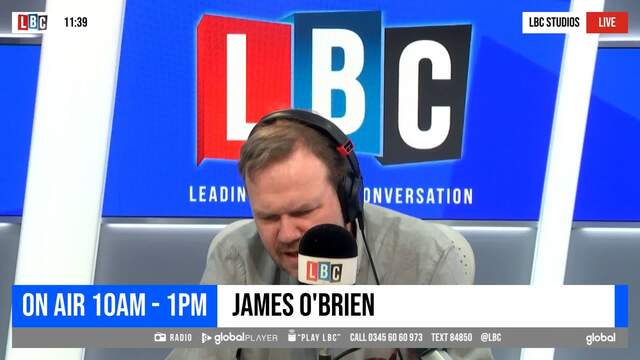 Caller tells James O'Brien her views on Prince William's homelessness initiative
As Prince William launches initiatives to tackle homelessness, caller Colette is infuriated by the Royal Family's attitude, stating they could eradicate homelessness in "5 minutes".
Caller Colette began by telling James O'Brien she "wasn't happy" when she heard the news The Prince of Wales's charitable foundation is putting in £3 million of start-up funding to help make homelessness "rare, brief and unrepeated".
Prince William is launching a major five-year campaign in a bid to end homelessness, which he believes should not exist in a "modern and progressive society".
Asserting her discontent to James, Colette said: "I've not been happy since Saturday, to be honest with you, because on Friday we were told our mortgages were going up and people could lose their homes."
Upon reading her Saturday morning newspaper, Colette told James she was disappointed to see the Royal Family attending Ascot when people are enduring a cost of living crisis.
Colette told James: "I don't care if he's the Duchess of Cornwall or the Duke of Peckham" adding "First of all, I'd start with his father (King Charles)."
The caller added: "His dad got the inheritance tax still to be paid if they use that money and said, 'You know what we're going to do? We're going to find a bit of land and build a bunch of high rises. And so we could, you know, help England build more houses."
READ MORE: Prince William launches five-year campaign to end homelessness in the UK
Continuing to assert his annoyance to James, Colette said: "Instead, William gets out of a chauffeur-driven limousine to go and talk to people about, 'oh, in five years' time, I'm going to help eradicate or help reduce homelessness.'
"Well, you could do that in 5 minutes, by selling some of your assets."
LISTEN: Full Disclosure with James O'Brien on Global Player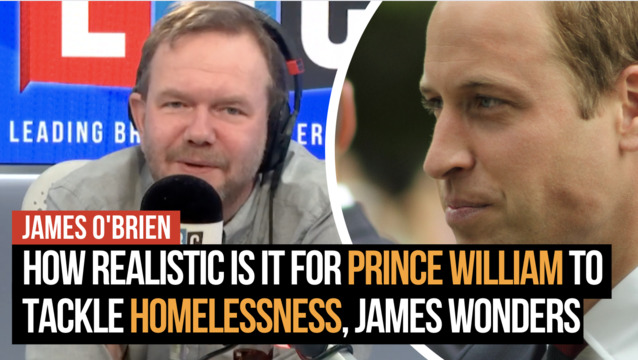 James O'Brien responds to Prince William's desire to end homelessness
She added: "There are two universes, one in which he has done this and one in which he hasn't."
James replied questioning: "Which universe is better?"
Colette said: "I want the universe where he's done this. So again, when I start seeing the for sale sign up outside the millions, all the properties they have, then I know they're doing it."
Read more: Prince William's decision to give big interview during King Charles's birthday parade 'raised eyebrows at palace'
When James informed Colette that the Prince would be donating £3m from his charity to support his plan, the caller replied "James, I don't want funds, I want to see bricks and mortar".
Continuing Colette told James the Prince could give up a "bit of the crown estate" to build houses, to which James suggested "The Oval".
Concluding Colette told James: "We can be grumpy, but you know what? We're keeping it real."
The "Homewards" initiative is said to be a defining project for the Prince of Wales - a commitment which he will be aware comes with the risk of being accused of wavering into politics.
Ahead of the launch, Prince William has spoken to Labour leader Sir Keir Starmer, Levelling Up Secretary Michael Gove and the first ministers of Scotland and Wales.
Currently, 300,000 people across the UK are said to be homeless, which includes those who are stuck in hostels and temporary accommodation, living in cars and sofa-surfing, as well as people who are rough sleeping.