'It's essential that people are able to protest peacefully against war', says James O'Brien
9 November 2023, 15:16
James O'Brien: 'It is to me essential - that people are able to protest peacefully against war.'
Politicians and journalists arguing that Armistice Day is an 'inappropriate' day to call for an armistice in Gaza are being unhelpful, says James O'Brien.
James O'Brien delivered this monologue after Suella Braverman was accused of stirring up far-right sentiment with comments about the pro-Palestine protest planned for Armistice Day this Saturday.
The November 11 March, in which protesters will again call for a ceasefire in Gaza, has been controversial due to it coinciding with the day of solemn remembrance for Britain's war dead.
James said: "It is absolutely essential to me that people are able to protest peacefully against war.
"And whether you like it or not, the alternative is worse, because next time it might be a war that you disapprove of - or it might be a war that you despise. But the rule is established."
Read more: Palestine activists vow to continue with Armistice day protests despite police pleas to postpone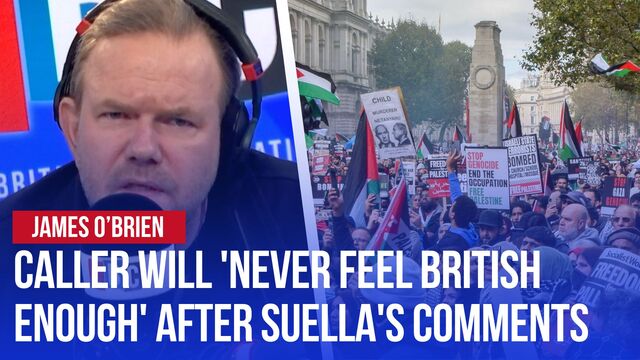 Caller doesn't think she will 'ever be British enough' after Suella's criticism of 'hate marches'
He continued: "I'm not impressed, I have to be honest, by people trying to argue that the worst possible time to protest against war is upon the day that we commemorate - we celebrate in many ways - the end of a war.
"I think some of the Tory politicians and client journalists who are arguing that Armistice Day is an inappropriate day upon which to call for an armistice, are at the very best silly - and at the very worst, outrageous for fairly obvious reasons, but also because the war in Gaza is happening now."
Concerns have been raised that the march could attract far-right protesters and descend into violence.
But police chief Sir Mark Rowley has said that his force does not have enough intelligence that there will be serious disorder to ban the protest.
James concluded: "So, the idea that you pause opposition to an actual unfolding war and humanitarian disaster because you're busy commemorating another war that ended 80 years ago, seems to me to be strange.
"Let's just say strange."
Read more: Route revealed for London Palestine protest on Armistice Day, as march to go ahead despite concerns