'Suella Braverman succeeded - she's caused hate', claims caller after Home Secretary criticises pro-Palestine marches
7 November 2023, 13:19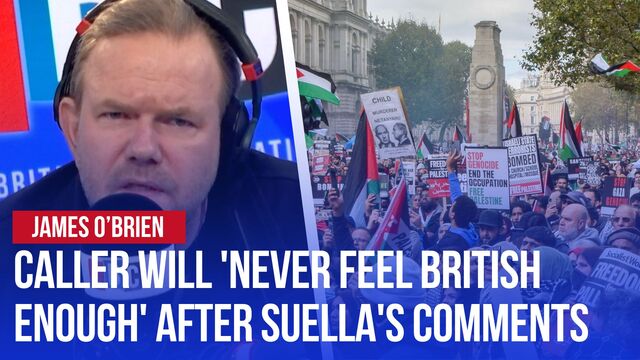 Caller doesn't think she will 'ever be British enough' after Suella's criticism of 'hate marches'
After the Home Secretary's criticism of pro-Palestine 'hate marches', this caller doesn't think she will 'ever be British enough'.
James O'Brien hears from Safina in Luton after Suella Braverman warned that Pro-Palestine protesters who vandalise the Cenotaph should be "put into a jail cell faster than their feet can touch the ground".
Safina said to James: "And it's all come down to Suella and the way that she's going about the situation.
"And yes, she succeeded. She's caused hate, she's caused hate with her comments. I don't think I will ever be British enough, even though I'm born in Luton.
"I just don't, I currently feel like Muslim lives don't matter.
"What is that got to do with the poppy?
"Why do I feel like that? Why do I feel guilty knowing that my children are safe in bed in 2023 and there's children are under the rubble?
"And that's what breaks my heart and it's just so sad when the Ukraine crisis happened, we all supported Ukraine openly. And it's just it's there's so many similarities but the only difference is the geography."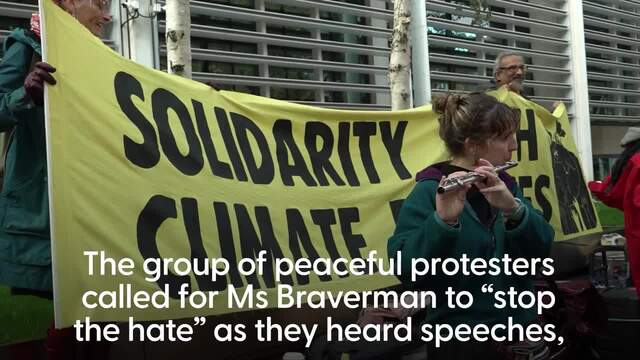 Protesters call on Suella Braverman to stop 'stirring up hatred and fear'
Read more: Met arrests 29 at the march for ceasefire in London - as police adviser revealed to have sang anti-Israel chant
It comes after Metropolitan police arrested 29 protesters at the pro-Palestine march on Saturday.
Tens of thousands of demonstrators are also planning to take to the streets of London on Armistice Day on Saturday, November 11, in what would be the fifth weekend in a row.
Ms. Braverman said Armistice Day should be treated with the "solemnity with which it deserves".
Safina went on: "And that's the saddest part that breaks my heart, that in 2023 we have children dying and the majority of them are children, innocent children. Yet we can't do anything. We can't even peacefully march because that would be considered hate."
To which James replied: "I was about to say, you still can as things stand, but of course, you can't. You can't do it without being labelled a hater or a hate marcher by the Home Secretary, whose job used to be to keep the peace."
Read more: Five arrested after Palestine supporters stage 'sit-in' protest at King's Cross station in London