Sadiq Khan declares there is 'no place for anti-Semitism' in London as kosher restaurant in Golders Green attacked
9 October 2023, 14:20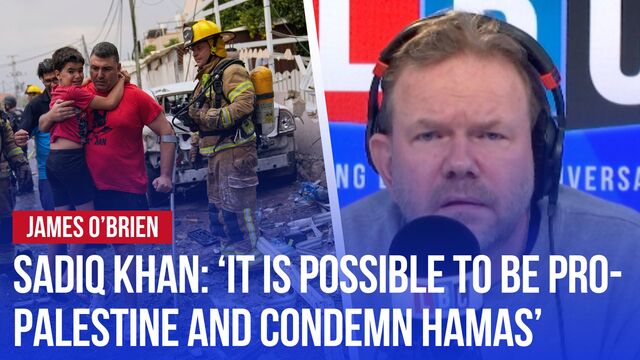 Sadiq Khan: 'You can be pro-Palestine and still condemn Hamas.'
The Mayor of London warns that the "full force" of the Police will "come down" on anyone who demonstrates anti-Semitic behaviour in London.
Speaking to James O'Brien from the Labour Party conference in Liverpool, the Mayor of London, Sadiq Khan condemned the action of Hamas, highlighting the "ripples of trauma" many Jewish people in the capital and across the country are enduring.
Their conversation arose as reports confirmed a kosher restaurant in Golders Green had been vandalised.
The Mayor of London addressed the act, noting: "The reason why last night's windows were smashed in Pitta Restaurant in Golders Green and the graffiti is so serious is that the Jewish community have in their memory the events of the 1930s, with Jewish properties having their windows smashed."
The Metropolitan Police confirmed that no arrests had been made, and the incident was not being treated as a hate crime.
Mr Khan reassured the Jewish community and Londoners that an "increased police presence" would be deployed in communities to ensure they felt "as safe as it is".
READ MORE: Kosher restaurant in Golders Green vandalised as Met police step up patrols in London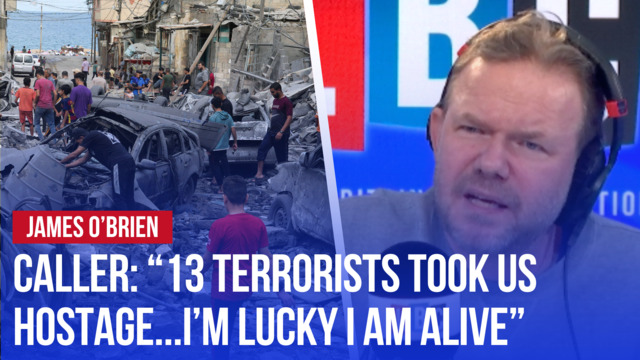 This James O'Brien caller who was held up in the coast road massacre relives the trauma
The Mayor added: "If your place of worship is a synagogue or your school of choice is a Jewish faith school, there's increased, enhanced security".
Reiterating his distress at the situation to James, Mr Khan stated: "There is no place for hatred, anti-Semitism, or incitement in London," and threatened that the "full force of the police" would be felt if anything of the like is attempted.
READ MORE: Siege of Gaza: Israel stops food, fuel and electricity entering disputed territory after Hamas attacks
When prompted by James for comment on Israel's latest orders for the 'siege' of Gaza, Sadiq Khan noted: "It's really important to make this point, it's possible to be pro-Palestine and condemn Hamas and what they've done in Israel".
Emphasising his "solidarity" with those facing the conflict, the Mayor added: "Those of us who aren't Jewish have got to understand why our Jewish neighbours, friends, colleagues are feeling scared".
Rishi Sunak will host a Cobra emergency meeting later on Monday amid the ongoing violence in Israel and Gaza following the 'surprise' attack by Hamas.
Israel's Minister of Energy, Israel Katz has confirmed they have cut off water supplies from Israel to Gaza, following orders for a "complete siege" of the strip.
Read more: Bodies of 260 killed in Israel festival massacre piled up after Hamas went 'tree by tree' executing victims