Siege of Gaza: Israel stops food, fuel and electricity entering disputed territory after Hamas attacks
9 October 2023, 10:49 | Updated: 9 October 2023, 15:36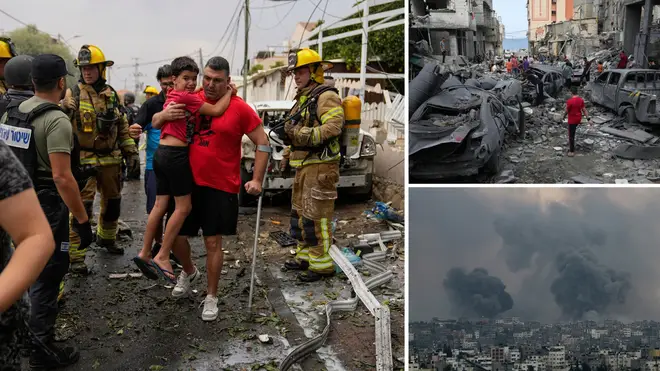 Israel has started preparations to launch a major ground offensive on Hamas as it orders a 'complete siege' on Gaza, blocking electricity, fuel and food from entering the disputed territory.
"I have ordered a complete siege on the Gaza Strip. There will be no electricity, no food, no fuel, everything is closed. We are fighting human animals and we act accordingly," Israel's Defence Minister Yoav Gallant said.
Israel controls the air space over Gaza and its shoreline, enabling them to restrict goods allowed in and out through the border.
It comes as thousands of Israeli soldiers are preparing to launch a massive ground offensive on Hamas 'within the next 48 hours' as Israel continues to fight off gunmen within Israeli territory.
Speaking to LBC's Shelagh Fogarty journalist Noga Tarnopolsky revealed there was an "incursion" from "armed militants" from Lebanon on the northern border of Israel, the journalist said it was possible this was Hezbollah with the IDF Air Force targeting the attacker.
She told Shelagh the IDF had acknowledged two fighters were killed in the clash.
"Everybody is afraid that the surprise attack launched against Israel on Saturday, by Hamas, could quite easily ignite a regional war."
In a statement the Israeli military said: "A report was received regarding the infiltration of a number of suspects into Israeli territory from Lebanese territory. IDF soldiers are deployed in the area."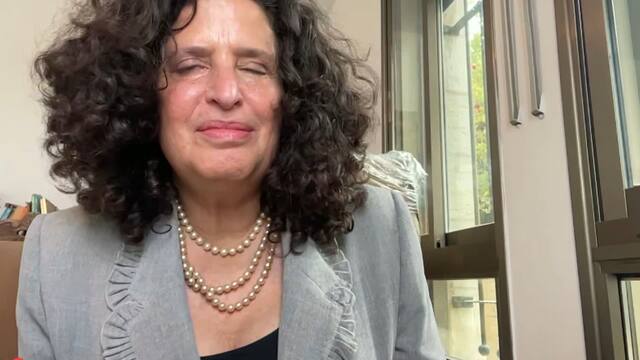 Journalist Noga Tarnopolsky speaks to LBC's Shelagh Fogarty
Israel has so far brought in special forces as it tries to regain control of communities near the Gaza border after it previously reported fighting in "seven or eight" regions.
The ground offensive will seek to completely remove Hamas fighters and its infrastructure in Gaza, US officials told the MailOnline.
"We thought by yesterday (Sunday) we would have full control," military spokesman Richard Hecht said today. "I hope we will by the end of the day."
Lieutenant Colonel Jonathan Conricus, a former spokesman for the IDF, said Hamas' attack on Israel has been "by far the worst day in Israeli history."
"Never before have so many Isarelis been killed by one single thing on one day," he said.
"This could be a 9/11 and and a Pearl Harbor wrapped into one."
It comes after Israel's continued bombardments of the Gaza Strip, hitting more than 1,000 targets belonging to Hamas overnight.
British citizen in Israel: 'This is a war.'
Hamas launched a surprise attack on Israel that has killed more than 700 Israelis. Officials in Gaza have reported at least 413 Palestinian deaths.
Israel's military has said: "This is our 9/11" and said that they are still fighting Hamas in "seven to eight places".
"This is our 9/11," spokesman Major Nir Dinar said. "They got us."
Read more: Bodies of 260 killed in Israel festival massacre piled up after Hamas went 'tree by tree' executing victims
Read more: US sends warships and planes to Israel as Sunak vows 'steadfast support' for Middle East ally in war with Hamas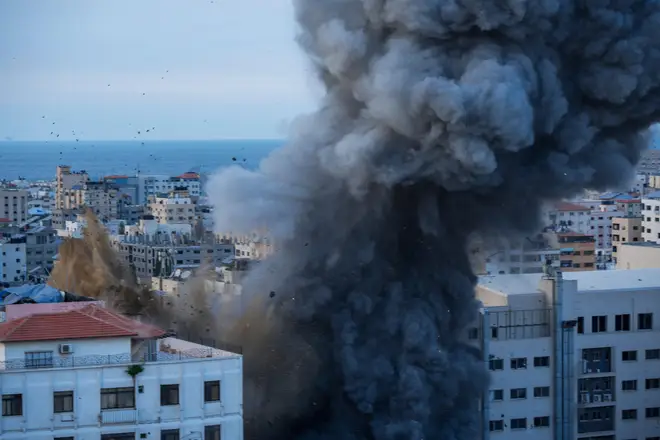 Airstrikes have levelled much of the town of Beit Hanoun in the north east which Israel said was being used as a staging ground for the attacks.
Elsewhere, Hamas attacked a peace rave in southern Israel, killing 260 unarmed revellers.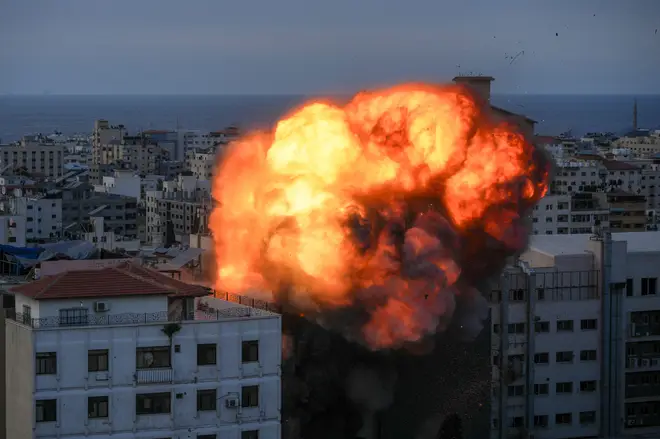 Images from the aftermath of the massacre were shared across social media by the Israeli government, with victims seen being placed in body bags and piled up in tents.
The Supernova Festival, which takes place near the border with Gaza, was set upon by Hamas terrorists who crossed into Israel using motorised paragliders before killing the power and opening fire on festival-goers.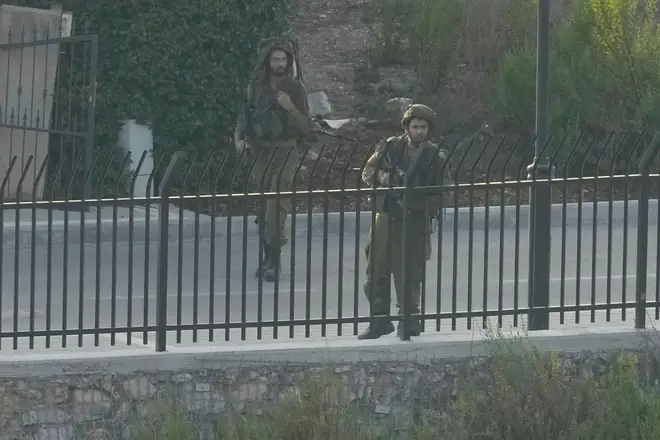 The Israel Defence Forces said "unprovoked war crimes" by Hamas included the deliberate killing of civilians, the abduction of civilians to hold them hostage, the desecration of corpses and the use of innocent civilians as human shields.
Children, babies, elderly people and disabled people are among those kidnapped by Hamas, Israel said.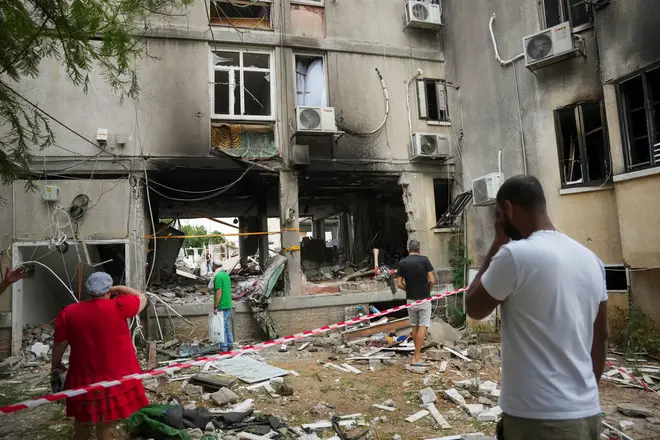 Daniel Hagari, a spokesman for the Israel Defence Forces, said that Hamas had started the war with "the worst massacre of innocent civilians in Israel's history". He added: "We will do whatever it takes to protect our people and restore security to Israel."
The surprise attack brought with it Israeli soldiers and civilians fighting on the streets of southern Israel, following a barrage of 2,000 rockets sent over the border by Hamas.
Prime Minister Benjamin Netanyahu immediately declared a state of war and has promised 'mighty vengeance' on Israel's attackers.
"What happened today has never been seen in Israel, we will take mighty vengeance for this black day," he added.
The United Nations says the number of displaced people in Gaza has risen to more than 123,000 as a result of the fighting between Israel's military and Hamas.
Retaliatory Israeli airstrikes in response to Hamas attacks had destroyed 159 housing units across Gaza and severely damaged 1,210 others.
The UN agency for Palestinian refugees said a school sheltering more than 225 people took a direct hit.
At least 700 people have been killed in Israel, including 44 soldiers.
The Gaza Health Ministry said 413 people, including 78 children and 41 women, were killed. An Israeli official said security forces have killed 400 militants and captured dozens more.
Around 2,000 people have been wounded on each side.
An estimated 1,000 Hamas fighters took part in Saturday's initial attacks from Gaza, according to the Israeli military
Hamas said it launched the attack in response to mounting Palestinian suffering under Israel's occupation and blockade of Gaza.
Israel - which declared war on Hamas on Sunday - hit more than 800 targets in Gaza in response, including airstrikes that levelled much of the town of Beit Hanoun in the enclave's northeast corner.
Israeli Rear Admiral Daniel Hagari told reporters Hamas was using Beit Hanoun as a staging ground for attacks.
There was no immediate word on casualties for the airstrike and most of the community's population of tens of thousands had likely fled.
"We will continue to attack in this way, with this force, continuously, on all gathering (places) and routes" used by Hamas, Rear Admiral Hagari said.
Meanwhile, Hamas and the smaller Islamic Jihad group claimed to have taken captive more than 130 people from inside Israel and brought them into Gaza, saying they would be traded for the release of thousands of Palestinians imprisoned by Israel.
The Israeli military said only that the number of captives is "significant."
The Security Cabinet also approved "significant military steps."
The steps were not defined, but the declaration appears to give the military and Prime Minister Benjamin Netanyahu a wide mandate.
In a statement, Mr Netanyahu's office said the aim will be the destruction of Hamas' "military and governing capabilities" to an extent that prevents it from threatening Israelis "for many years."
The Israeli rescue service Zaka said its paramedics removed about 260 bodies from a music festival attended by thousands that came under attack.
The total figure is expected to be higher as other paramedic teams were working in the area.