'I'd prefer you to go to jail than die': James O'Brien is left aghast by this caller's father's stance on knife possession
28 September 2023, 13:35 | Updated: 28 September 2023, 14:07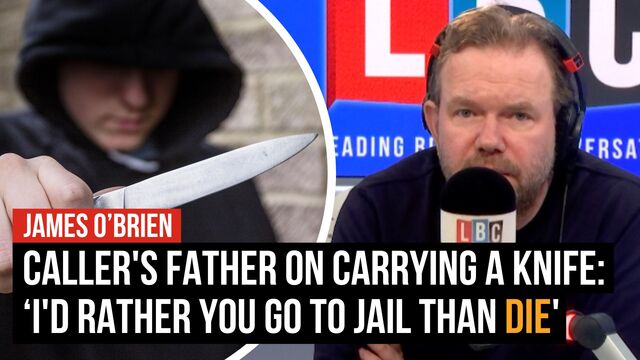 Caller warns James the UK could become like the US once people think blades are not enough
Knife crime is an "epidemic" asserts this caller, who admits to carrying and using a knife due to increasing "paranoia".
James O'Brien began by questioning the caller, asserting: "So your dad had no idea you carried a knife, right?"
Replying, the caller said: "At first he didn't, and then later on, he was like, 'I'd rather you go to jail than die'."
Their conversation arose following the stabbing of a 15-year-old girl in Croydon, as she attempted to intervene in an argument between her friend and her friend's ex-boyfriend on the bus while travelling to Old Palace Independent School., according to witnesses.
Mervin (not his real name), told James there is "worry" from both parents and children, with James noting the "permanently adrenalised state of existence" which overtakes you when you're out and about.
Continuing, James noted how the state of "fight and flight" is supposed to be for a "split second" but it has become a "permanent state of existence" for many individuals.
READ MORE: 'I would not want my child walking in this town': Croydon resident expresses fear following the stabbing of 15-year-old school girl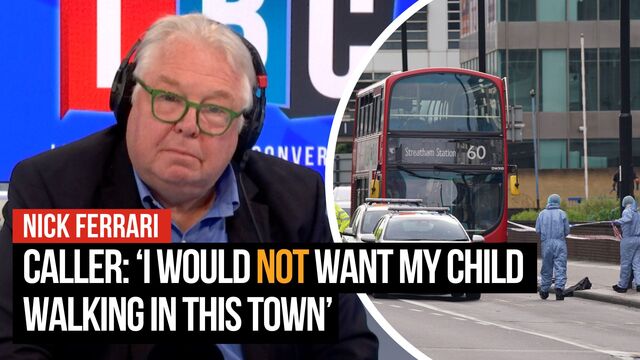 This Croydon-resident will 'not set foot' there even though they live there as they express fear
Providing an example of a knife encounter, Mervin detailed an evening walk home where a man pulled a blade out while eyeing him up.
He noted: "He was just looking at me, and then the man just pulls a knife, I haven't done anything, so I draw my knife, nothing happens he just keeps eyeing me up for a bit, then he walks off."
Mervin added: "I don't want to incriminate myself but there's been one of two occasions where I've had to use it in self-defence."
READ MORE: Pictured: Hero schoolgirl, 15, stabbed to death in Croydon 'when she stepped in to protect her friend'
Following the stabbing of a young girl in Croydon, a 17-year-old teenager has been arrested and is being questioned by police.
Met Police Commissioner Sir Mark Rowley described Elianne's death as "senseless".
Drawing a comparison with the "gun epidemic" in the US, the caller told James that "we have a knife epidemic", noting the only difference is "guns accelerate the process".
Concluding, the caller told James that "paranoia has no limits".
He added if we continued to brush off the issue of knife crime, the problem would continue, with individuals upgrading their weapons to match those of their rivals.
James stated: "It's a question of access as much as anything else, but, I guess what you're describing is just a basic arms race."