We need more social housing 'immediately' as mortgage costs rise, this landlord declares
11 July 2023, 15:15
This landlord stresses the impact of unattainable mortgage rates
As refinancing pushes mortgage costs higher, this caller tells James O'Brien he believes the situation will cause homelessness.
James O'Brien discussed with caller John the repercussions of unattainable mortgages on landlords and tenants, as up to 225,000 landlords face losses due to refinancing causing an increase in mortgage costs.
James began by offering John a "theoretical scenario". He asked what the caller would do if a situation arose where he began to make a loss on all of his properties or they became "unsustainable".
John responded explaining that landlords are already beginning to sell their properties, but are having little success.
"That is not going to cause a crash in the housing market...it's a very small part of the market," he started, "but in essence, it's just going to cause homelessness".
He continued: "Tenants are going to get evicted because landlords want to sell their properties, when they're evicted they've got to go somewhere, where are they going to go?"
READ MORE: Mortgage rates soar to highest level for 15 years with average two-year fixed deal hitting 6.66%
Listen to James O'Brien's Full Disclosure on Global Player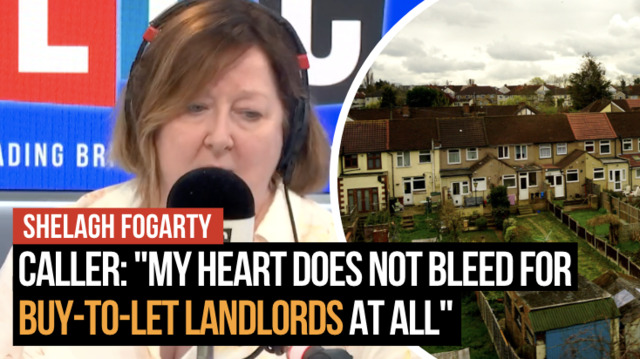 Caller has 'no sympathy' for buy-to-let landlords
READ MORE: BBC pauses presenter scandal probe as it emerges corporation only made two attempts to contact complainant
John then offered his solution: "The government must immediately start building social housing, alongside affordable homes, we need both."
James expressed his appreciation for this point, saying that the road ahead is "bleak" though stating that he cannot see "much alternative."
He concluded the call: "It's just a question of how big the problem will be, not what the problem actually is."
James then soliloquized: "Social housing, social capital, it seems so simple sometimes, it seems like such a no-brainer...it's infrastructure, it's asset, it's growth and it creates homes."
He then questioned where the stigma around council housing had come from: "It's not a safety net, it's social capital that improves society."
He concluded: "Under my glorious rule, that would be top of the list, build, build, build, build."