James O'Brien lambasts the eight Tory MPs named to have 'attacked' Privileges Committee
29 June 2023, 14:01 | Updated: 29 June 2023, 14:49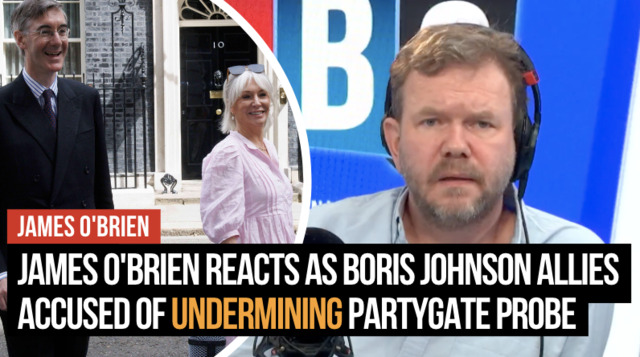 James O'Brien reacts to Nadine Dorries and Jacob Rees-Mogg accused of undermining Partygate probe
James O'Brien brands Boris Johnson the "godfather of corruption" as his allies have now been found trying to "intimidate" the Privileges Committee members in what he describes as "frankly vile terms".
In a new report the Privileges Committee has accused allies of Boris Johnson of mounting "vociferous attacks" on its work; in light of this James O'Brien told listeners: "Named and shamed… impugning the integrity of the committee and its members and worse the attempt to lobby or intimidate those members."
Former ministers Nadine Dorries and Sir Jacob Rees-Mogg are among those accused of waging a coordinated campaign to interfere with the Commons investigation into Boris Johnson.
James named 'Jacob Rees-Mog, Andrea Jenkyns, Pretty Patel, Nadine Dories, Zac Goldsmith, Mark Jenkinson, Michael Fabricant, and Brendan Clarke-Smith' the 'diabolical eight'.
James continued: "It's the ultimate illustration of just how much damage has been done to things that were once sacrosanct."
He then enforced his point by pointing to the fact that the committee had a "Conservative majority" and yet was still "coming under attack in frankly vile terms".
Read More: Boris Johnson allies Dorries and Rees-Mogg accused of 'disturbing' campaign to 'undermine' Partygate probe
"Every single one," of these Conservative politicians he said, "has been preferred or promoted by the godfather of all of this corruption Boris Johnson".
He further emphasised the enormity of this: "Conservative politicians deploying the tactics of the Daily Mail or the Murdoch press to attack Conservative colleagues on a committee designed and dedicated to policing and scrutinising the behaviour of politicians.
"It's about as damning of an indictment of where we've ended up as a parliamentary democracy as it's possible to conceive… Conservative MPs too thick or too bent to acknowledge or understand how outrageous their behaviour is."
He then described this group of Johnson allies as: "Queuing up to use the language of McCarthyism or 1930's Germany."
"It's mad," he concluded.
Read More: 'Not a safe country': Government's Rwanda plan ruled unlawful by Court of Appeal - but PM comes out fighting