James O'Brien Rails At "Throbbers" And "Fraudsters" Still Selling Brexit
27 July 2018, 13:56
After a string of calls from business owners who face losing their companies after Brexit, an angry James O'Brien railed at the "throbbers" and "fraudsters" who led us here.
While discussing Britain's plans to leave the Customs Union, James got a call from Nick from Greenwich, who runs a multi-million pound heating and ventilation business that imports equipment from Europe.
That was the latest in a string of similar calls and it led James to lose his temper at the people in the media and politics who are still insisting they believe in Brexit.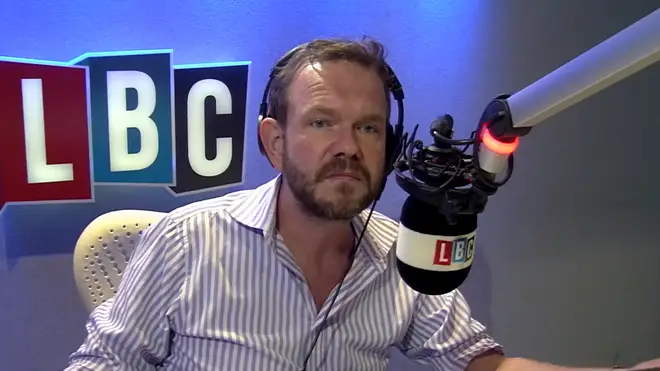 "I am so sorry that the British media of which I am a part has let down Nick and everybody else who has been sitting in what is supposed to be a functioning democracy with a free and transparent media and they have been sitting there watching their livelihoods, watching the clock ticking on their companies and on their family's financial security while utter throbbers like Liam Fox march around the country claiming to know what they're talking about.
"While fraudsters and charlatans, spivs and shysters like Jacob Rees-Mogg and David Davis and Boris Johnson and Nadine Dorries and Priti Patel and Steve Baker and whoever it may be are sitting in studios, insisting that everything's going to be fine. And no deal is better than a bad deal.
"Yes I am angry.
"It's not Nick's job job to do this. His job is to get industrial heating equipment over from Germany and installed on British construction sites byteatime.
"Our job is supposed to be to look after the people, to tell the people what is going on, to keep the message clear and inarguable. And what have we done? What have we done? We put the hecklers on stage. We've let the clowns take over. We've given the liars the prominence.
"And do you know the one thing I still can't quite get my head around... it's optional. It's a choice. It's voluntary."