'You realise how fragile stability is': James O'Brien brands Donald Trump 'depraved' after mugshot revealed
25 August 2023, 15:56 | Updated: 28 August 2023, 12:21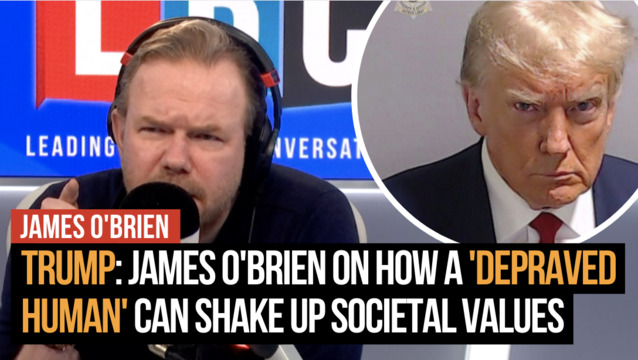 James O'Brien on the 'fragility of stability' in society at the hands of 'a depraved human'
With Donald Trump's mugshot already cementing its place in history, James questions supporters of the former President and Trump's own confidence.
James began, stating: "It's such a bleak worldview to think you can do disgusting things and still be cheered to the rafters".
His soliloquy comes after former US President Donald Trump's mugshot went viral as he surrendered in Georgia following his fourth indictment.
It is the first mugshot ever taken of an American president.
He went on: "You sort of realise how fragile stability is...one depraved human can come along with contempt for what binds society together...and he can threaten the stability of an entire society".
READ MORE: Donald Trump offers T-shirt with historic mugshot for $47 as he claims jail 'worse than you could even imagine'
Caller: America is going through 'crazy times'
He then questioned how Mr Trump knew at the beginning of his presidency in 2016, "that he could get away with whatever he wanted."
A disbelieving James continued: "How did Donald Trump know that he could pick their pockets, assault their mum and steal their votes?"
He concluded: "How did he know that he could do all of those things and not lose their support?"
Mr Trump's mugshot was taken alongside eleven other defendants on Thursday.