Legal consultant working on Prince Harry phone-hacking trial speaks to James O'Brien
5 June 2023, 13:42 | Updated: 5 June 2023, 14:57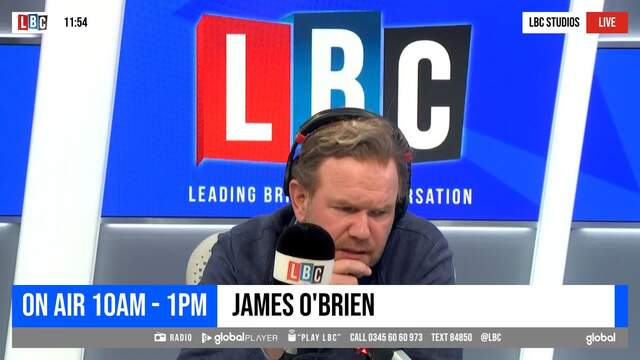 Legal consultant on Mirror Group hacking case
Dr Evan Harris who is working with the claimants of the hacking litigation involving Mirror Group and The Daily Mail reveals the next stages of the trial.
Dr Harris, a legal consultant and former director of the Hacked Off media privacy campaign group, provided James O'Brien with the latest information on the ongoing litigation related to hacking involving the Mirror Group and The Daily Mail.
The legal consultant, who used to be a Liberal Democrat MP, began by describing the case involving Prince Harry's legal action against the publisher of the Daily Mirror as "an interesting" case.
Telling James about the four sample claimants joining Harry, he said: "The idea is that this trial, the judgment here will be helpful to all other claimants.
"They've said it's too late for some claimants in some of the cases so that will be determined in this trial."
The consultant said he believed that the Mirror Group were happy to go to court as they believe the claims will be too late to stand trial.
READ MORE: Royal privacy showdown: Prince Harry not in courts and accused of 'wasting time' by arriving late in UK
James explained the legal term 'Part 36' which often deters people from taking their case to court as they fear experiencing financial hardship and instead reach a paid settlement.
Dr Harris contributed: "There's a reason for it obviously, we can't have people who want their day in court and refuse to settle when they're getting everything they want.
"But it does mean that it has taken people who are as prepared as Prince Harry [who] has said he is prepared to take a financial loss," he said highlighting the financial risk of taking a claim to court.
READ MORE: Mirror publisher apologises to Prince Harry for ordering the unlawful gathering of information
The former MP revealed that his claimants are set to go to court in January with The Sun and News of the World but they are yet to hear back from The Daily Mail.
As a victim of hacking himself, Dr Harris said: "For me and for the victims, this is unfinished business."