'Culturalist...as in racist': James O'Brien caller falls down his own 'rabbit hole' over migration
10 March 2023, 12:54
James O'Brien caller falls down his own 'rabbit hole' over migration
In this staggering 17-minute call, James O'Brien allowed this caller to keep digging his own "rabbit hole" on migration, after he said he wouldn't want "an Islamic family" living next door to him but would be okay with a Polish family because they "blend in".
This phone-in comes during a week of public outcry over Gary Lineker, in which he tweeted that the language used by the government in its announcement of the Illegal Migrant Bill is "not dissimilar" to the language used in 1930s Germany.
There is no huge influx. We take far fewer refugees than other major European countries. This is just an immeasurably cruel policy directed at the most vulnerable people in language that is not dissimilar to that used by Germany in the 30s, and I'm out of order?

— Gary Lineker 💙💛 (@GaryLineker) March 7, 2023
The James O'Brien caller, Phil, said that he sits "very much in the centrist position", but had a problem with people being "overly liberal" about "non-cultural immigration".
When James asked what he meant, the caller eventually said: "It means...say for example I have a Polish family who live next door, I might not even know that they're a Polish family because they blend in."
READ MORE: Gary Lineker needs to study the history books, Foreign Secretary says after football pundit's criticism of migrant plan
"But they speak Polish", James pointed out. "It could be any European migratory family...it doesn't matter. The point is they blend in...you don't notice them", his caller replied, prompting James to brand the call "a game of gammon bingo".
James said: "So here we are on the radio, talking about why the county has spent all week talking about Gary Lineker and you've come on and said it's because there are people that don't blend in."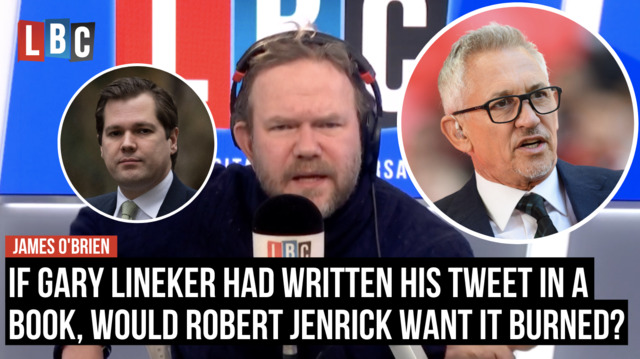 'Would Tories call for book burning?' questions James O'Brien over Gary Lineker migrant bill tweet
His caller then said that the Brexit vote marked a time when "normal people who were just concerned about immigration" were driven "into the hands of extremists" by members of the media.
"But extremists use language like 'blend in', don't they?", James pointed out.
"I'm going to insist that you explain the language that you've used", he continued.
"I want to know what it is about a Polish family moving in next door that lets them blend in...what families don't blend in Phil?"
"I would not like an Islamic family moving in next to me...I know the culture James", Phil said, but when pressed on why, and the fact that there are Polish Muslims, he replied: "I'm not going to do gown this rabbit hole James, this is quite ridiculous."
READ MORE: Explained: What are Rishi Sunak's new immigration laws?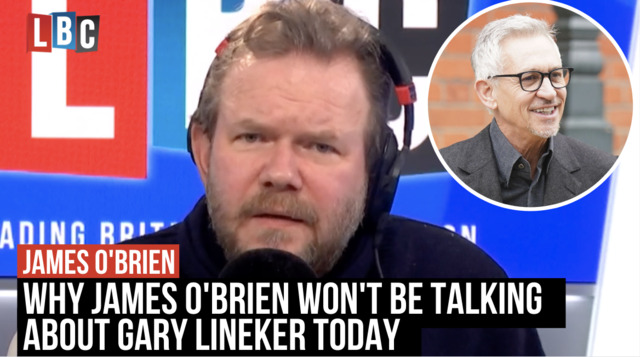 Why James O'Brien won't be talking about Gary Lineker today
"I don't have a racist bone in my body, but I am culturalist", he added.
"But you don't want to live next door to brown people", James swiftly retorted, and asked him what he meant by that.
"Culturalist...as in racist, James, for goodness sake", to which the presenter replied: "Yes exactly, you are...you're basically being a racist and calling it culturalist instead."