James O'Brien ponders the 'hatred' and 'demonisation' experienced by migrants
3 July 2023, 15:36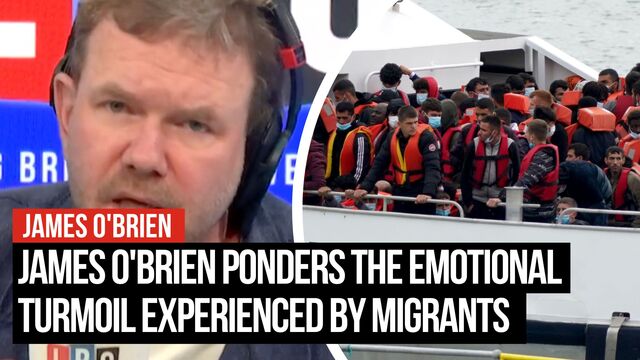 James O'Brien ponders the emotional turmoil experienced by migrants in the UK
The Prime Minister faces a new threat from the right wing of the Conservative Party regarding migration, as net migration to the UK stood at 606,000 in 2022 - the highest ever.
James O'Brien began by questioning: "Why are we giving them the oxygen of attack?"
James' outburst coincided with the announcement from a group of Tory MPs who are calling on the prime minister to severely cut migration.
The 'New Conservative' MPs include party deputy chairman Lee Anderson, Jonathan Gullis and Miriam Cates.
The group is calling on ministers to close temporary visa schemes for care workers as part of the effort to slash immigration.
Continuing, he said: "The answer is you.
"The answer is if we don't remind ourselves what real people are and look like and do, they can continue to do what they did in the run-up to Brexit and portray these people as unreal, these faceless mobs, the characters in Daily Mail stories or Nigel Farage's disgusting Nazi-themed posters".
Outraged by this news, James exclaimed these people are the ones "currently looking after your mum" or "making sure there is food on the shelves in our supermarkets".
James added that these were the "real people who are currently dealing with all of the things that the rest of us are dealing with" with a "fat side order of hatred and demonisation".
READ MORE: Partygate investigator Sue Gray broke Civil Service code by discussing a job with Labour, inquiry finds
LISTEN: Full Disclosure with James O'Brien on Global Player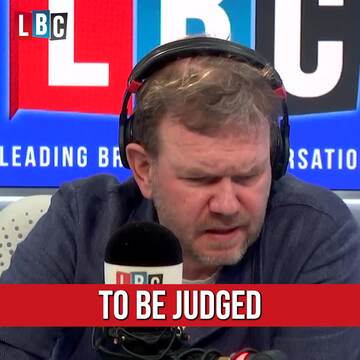 Caller explains how she was punched in the back in racist attack
Calling on listeners who were "born somewhere else" to share their experiences of hearing "Jonathan Gullis, 30p Lee and the rest of them explaining why you should not be here at all".
"I'm not going to lie to you" James added, "I don't think it would be very hard for you to explain why you believe your contribution to British society is greater than that of Jonathan Gullis and 30p Lee Anderson combined".
Noting a clip of the Conservative Party deputy chairman Lee Anderson trying to make a guest eat cat food on a new TV show, James said: "I believe he spent the weekend trying to feed cat food to a woman that used to be on The Apprentice.
READ MORE: British islands 'consider breaking away and joining Norway' amid fury at Scottish government and Westminster
"I may have misunderstood the headline on a social media clip, but frankly, I doubt it."
Concluding James said: "So what's it like when these stories, when these political exacerbations, What's it like? What does it feel like when you're listening to it? Reading it, watching it and realising that actually, whichever way you dice it, they do mean you".
The UK's overall population grew by more than 600,000 people last year, according to the latest figures from the Office for National Statistics, which said the increase was driven by more people from outside the EU arriving on student and work visas, and refugees fleeing conflict and persecution in Ukraine and Hong Kong.
In a report launched on Monday, the New Conservatives claimed the British public "did not vote for mass migration and the social and economic harms it brings".
"Without swift action to get migration under control, the Conservative Party will further erode the trust of hundreds of thousands of voters who lent the party their vote in 2019," the report said.