'I am calling her rhetoric racist!': Tory Peer condemns Home Secretary Suella Braverman
11 April 2023, 14:33 | Updated: 11 April 2023, 14:56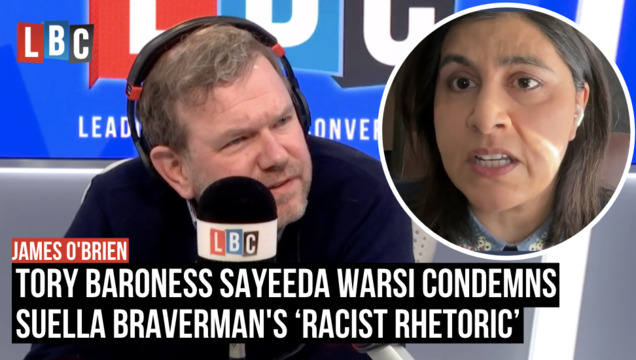 Tory peer Baroness Sayeeda Warsi condemns Suella Braverman for using 'racist rhetoric'
Baroness Sayeeda Warsi, former co-chairwoman of the Conservative party has criticised Ms Braverman branding her a 'Trump tribute act'.
When questioned by James O'Brien Baroness Sayeeda said that we need a "grown up" in the role of Home Secretary, deeming Ms Braverman's politics as "rabble-rousing".
She continued: "I genuinely hope that this is not what we're going to see on a week to-week basis".
The discussion comes as Suella Braverman has been urged to withdraw divisive comments around child sexual exploitation by campaign groups, in a series of letters addressed to Prime Minister Rishi Sunak on Tuesday.
They have deemed her comments an example of "irresponsible and divisive rhetoric."
READ MORE: Bomb squad robots sweep Londonderry cemetery hours ahead of Joe Biden's arrival in Northern Ireland
Baroness Sayeeda condemned Ms Braverman saying: "She's a Home Secretary that can't make policy on evidence and is unable to communicate policy in a way that doesn't need to rabble-rouse and be racist rhetoric".
She went on: "Divisive rhetoric might win you a couple of votes, it might even win you an election but it damages the country.
"Your commitment to your country should come over and above your commitment to your party."
When asked by James if the party she joined still exists, Baroness Sayeeda said "no it doesn't exist...and it seems as long as the Home Secretary is there and the Prime Minister doesn't have the backbone to call her out and get rid of her, the same kind of politics that we've seen for too long now of factless evidenceless, rabble-rousing politics continues and it's dangerous."
On the topic of grooming gangs Baroness Sayeeda further condemned the Home Secretary saying that her recent actions have lacked evidence or caveats.
In particular, she noted that Ms Braverman has gone against Home Office reports, which show that the majority of perpetrators of sexual abuse are white.
She stated: "It beggars belief that a police force that sadly consistently has been accused of being institutionally racist is somehow tiptoeing around not wanting to offend brown people."
This is in reference to claims made recently by Ms Braverman that police forces have failed to prosecute perpetrators from ethnic minority backgrounds due to 'political correctness.'
The Baroness went on to say that by targeting members of ethnically minority backgrounds, Braverman is creating "blindspots".
"If the perpetrator doesn't fit Suella Braverman's version of a perpetrator then we are going to overlook them."
In reference to the failures of police to protect victims of sexual abuse, she continued: "If I was Home Secretary the first thing I would be doing is asking for heads to roll."
READ MORE: Government slams junior doctors' 'unreasonable' pay demands as NHS braces for most disruptive strike in its history
A Home Office spokesperson has said: "The Home Secretary has been clear that all despicable child abusers must be brought to justice. And she will not shy away from telling hard truths, particularly when it comes to the grooming of young women and girls in Britain's towns who have been failed by authorities over decades.
"As the Home Secretary has said, the vast majority of British-Pakistanis are law-abiding, upstanding citizens but independent reports were unequivocal that in towns like Rochdale, Rotherham and Telford cultural sensitivities have meant thousands of young girls were abused under the noses of councils and police.
"That's why we have announced a raft of measures, including a new police task force and mandatory reporting, to ensure this horrific scandal can never happen again, and bring members of grooming gangs to justice for the victims."