'Democracy is in danger': Security expert Edward Lucas stresses significance of Jacob Rees-Mogg blacklist
24 April 2023, 15:45 | Updated: 25 April 2023, 09:39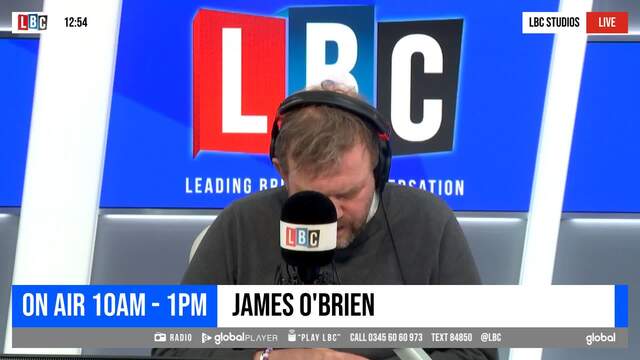 'Democracy is in danger' Edward Lucas warns
Whitehall is in the middle of 'a really big scandal,' a top security expert tells James O'Brien after blacklisting revelation.
Security expert and prospective Liberal Democrat MP Edward Lucas published an article in The Times today outlining a deliberate attempt, by government officials, to barr experts and public speakers from Whitehall.
James O'Brien invited Edward Lucas to explain what he knew about the action.
Mr Lucas told James: "An expert in an arcane bit of science, which is very important for national security, has been blacklisted by the cabinet office."
Without revealing the name of the "expert" he continued: "Because he tweets, general sort of 'letting off steam' tweets about Trump and Suella Braverman and other things, but that is nothing to do with his field of expertise.
"He then got this letter disinviting him [from speaking at a conference] saying: 'We have checked your social media feed and it contains material critical of the government, we have no choice but to disinvite you.'"
Under new guidelines, said to have been introduced "by the Cabinet Office in 2022", all public speakers must have their social media "vetted".
After hearing this Mr Lucas said he "just thought that's absolutely disgusting," exclaiming: "That's the opposite of the way this country should work."
READ MORE: The 'toxic legacy' of Dominic Raab's departure: Debate over effect of Deputy PM's departure on Civil Service
The Lib Dem candidate said this move is "attacking people's livelihoods" because "being blacklisted by your own government is actually quite bad for business".
"These rules were never debated by parliament, they were never approved by parliament," he said, telling James it had been a "completely secret process".
The column's headline compared the finding to Soviet Russia. Although he didn't write the headline Mr Lucas said he is comfortable with the comparison.
"If the government's cutting themselves off from the advice of anyone who disagrees with them they will end up like the communist bureaucrats of Eastern Europe who ended up knowing nothing and being toppled by their angry crowds," the writer said.
"The roads lead to Jacob Rees-Mogg's door does it, Edward?" James enquired.
"Well, the only knowledge we have of this is an interview in the FT with someone who is called 'friend of Jacob Rees-Mogg'... that's all we really know," Mr Lucas explained.
Edward Lucas told James he has written to Jeremy Quinn the cabinet office minister but has had no response from the cabinet office.
READ MORE: Labour MP says government under Keir Starmer will be one of 'real integrity'
"Democracy is actually in danger if this happens, it's a really big scandal," he concluded.