'It looks not unlike a war zone': James O'Brien ponders why French protests are so violent
24 March 2023, 17:44 | Updated: 24 March 2023, 17:47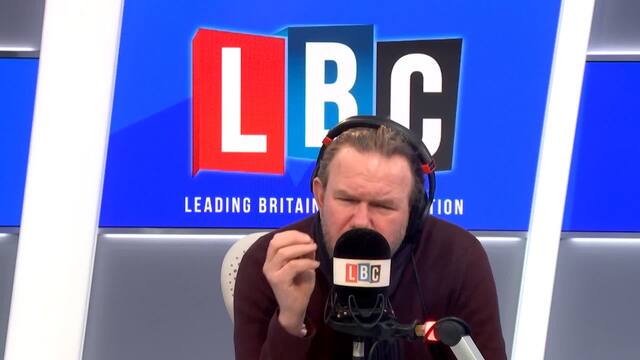 As he glances across the studio at "braziers burning on the Streets of Paris" James O'Brien asks what is in the French "DNA" that makes their protests so "violent" in comparison to the UK.
James O'Brien points to a fundamental difference in the social psych of the French compared to the English in their tendency to violently protest, saying "you can see why King Charles has decided not to go. Because it looks not unlike a war zone."
This comes after King Charles' state visit to France has been postponed, after a last minute request by President Emmanuel Macron.
King Charles' visit to Paris and Bordeaux had been due to begin on Sunday. But in the last few days France has seen the worst violence since protests began in January with Bordeaux Town Hall being set alight last night.
Protesters are angry after President Macron raised the pension age to 64, bypassing the French Parliament.
These events prompted James to ask: "What is it that is so different culturally or historically about the French?"
Evidencing this point further James added: "We remember the gilet jaune not long ago" the protests over petrol prices in Paris that caused similarly chaotic public resistance.
James refers to the powerful images emerging from France: "As I glance at the screen in the studio at the moment there are braziers burning on the streets of Paris and in one southern city they set fire to the town hall.
"There is tier gas wafting its way through the assembled masses."
Read More: King Charles and Queen Consort's state visit to France postponed following violent protests
Read More: Bordeaux town hall set on fire as violent protests spread across France ahead of King Charles visit
"What intrigues me" James said, "is this difference in population, this difference between the French and English when it comes to public protest because they do it an awful lot and they do it on a much grander scale."
The tendency for British protests to usually be peaceful and rather civilised he said he "liked" but, he said "the tradition of protest in France often looks close to violent."
One explanation for this difference James said: "There's something in the DNA there's something in the French culture and history that has incubated a different relationship with public protest than we do here."
Building on this idea of cultural difference James said: "That kind of know your place and ask no questions seems to be a peculiarly English phenomenon and one that France to the best of my knowledge doesn't have."
With their rejection of the "Royal Family and nobility" saying they seem to have an "opposition to deference in general."
James did concede however that the British population protests violently only "in deeply unpleasant scenarios like outside asylum centres or similar."
Read More: James O'Brien brandishes Boris Johnson as a 'liar' ahead of Partygate grilling