'I went into panic mode': James O'Brien caller gambled away his student loan
27 April 2023, 13:10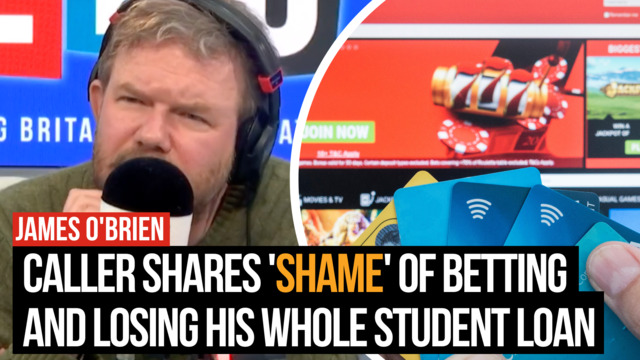 Caller shares 'shame' of betting and losing his whole student loan
This caller shared how he struggle with online gambling whilst at university.
This comes amid hopes that the government will tighten legal regulations on gambling limits with affordability checks.
James in Epsom told James O'Brien: "My student loan hit, and within about four hours it was gone."
"Ohh!" James exclaimed. "So this was the first time you'd ever had a significant chunk of change in your bank account was it?"
The caller confirmed, adding that he had previously won money while betting at the Grand National and "absolutely got hooked instantly".
"There was no going back from that", he said, explaining how he deposited the money in £300 increments and stayed up until 4 am trying to win £1500 back, unsuccessfully.
READ MORE: '£2 limits on online slot machines' under biggest shake-up of the gambling industry in nearly two decades
Caller James said he had no gambling habits before this incident.
"This could not have happened without the technology I don't think", the radio presenter said.
The caller agreed: "I wouldn't be at a bookie withdrawing the money from my account, taking the cash out and then going back."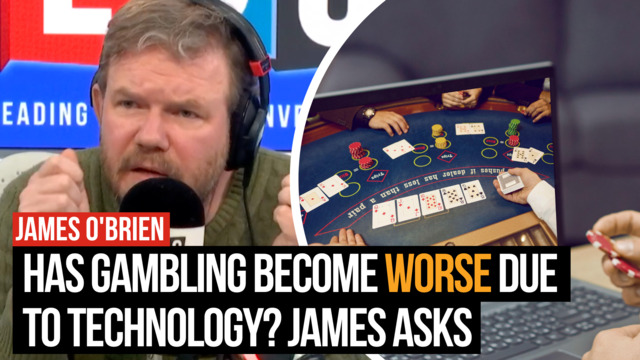 James O'Brien wonders if gambling has been made worse by technology
"I went into panic mode - I didn't know what to do", he went on, explaining that he had gambled away all the money he was supposed to live on for the coming month.
He called his parents, who he says were "sort of understanding" and supported him when he moved back home for six weeks.
"Did you learn your lesson?" James asked.
"One hundred per cent" the caller in Epsom replied.
READ MORE: William Hill to pay £19 million for 'alarming' failure to protect customers, in largest gambling commission fine ever
"Shame was a huge part of it because you're by yourself in your room on your phone - there's no one around you, it's not like you're at a casino where there are people...you're sat in your room after losing £1500 - I haven't felt shame like that before", he added.
"There's nothing like an 18-year-old sat in his room, finally got their first bit of independence and losing it all online", he said.
So others don't find themselves in the same position as him, the caller suggested people should have to provide bank statements to prove they can afford the gambling deposits they are making.