'Nothing about Brexit is normal or fair': James O'Brien brands vote leave advocates as 'liars'
1 March 2023, 12:28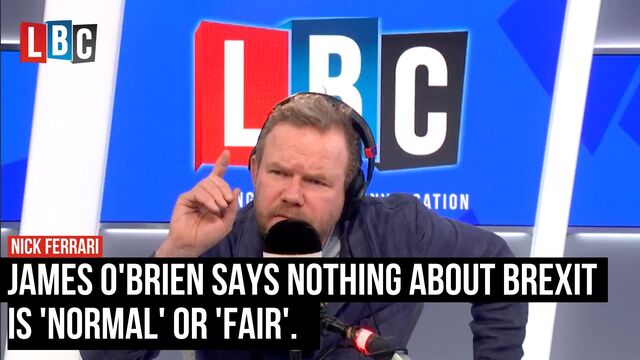 James O'Brien says nothing about Brexit is 'normal' or 'fair'.
James O'Brien labels Brexit as 'unfair', saying vote leave advocates 'grabbed country by the windpipe and squeezed until the flow of oxygen to the brain' was depleted.
Following on from Rishi Sunak's Brexit deal proposal on Monday, James O'Brien retaliated to the media's portrayal of the UK's exit from the EU, stating headlines had been "gross" and "vicious".
Focusing his dissatisfaction on the Daily Mail's coverage of the 2017 general election, James intensified his distaste for the Mail's headline which read, "Crush the saboteurs" below a picture of Theresa May.
READ MORE: Matt Hancock denies claim he ignored advice on care home testing as source close to MP claims Whatsapps were 'stolen'
James said: "The idea that people who understood stuff shouldn't be able to exercise their democratic right in the house of commons to vote according to things that they actually understood".
The Prime Minister appeared in Belfast yesterday in an effort to sell his Brexit deal, as he now seeks backing from Northern Ireland parties for a post-Brexit deal.
READ MORE: Conservative MSP Rachael Hamilton says SNP is 'completely out of touch'
Yesterday, James shared his elation at the progress the Prime Minister has made, saying "after six years, nearly seven years of this, Rishi Sunak deserves a round of applause for this".
Reiterating his disapproval of the Brexit campaign, James went on to criticise Vote Leave, Leave.EU and the UKIP movement, brandishing them for "tearing families apart by racist lies".
READ MORE: Nick Ferrari slams West Yorkshire police over Quran School incident
Continuing, James maintained his anger saying: "it's not fair that liars grabbed our country by the windpipe and squeezed until the flow of oxygen to the brain was so sufficiently cut off, we delivered a referendum result that we'll be regretting for generations".
It is not yet understood when MPs will be voting on the proposed deal, however, Mr Sunak confirmed on Monday it would come "at an appropriate time".