'Colour me shocked!': James O'Brien on how 'remarkable' it is that Tories are encouraging more affordable food shops
3 August 2023, 14:02 | Updated: 3 August 2023, 14:04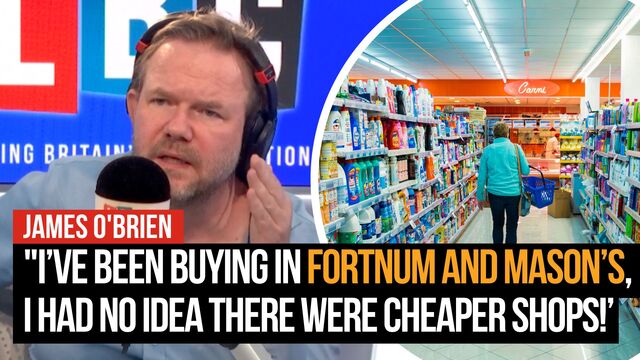 'I wasn't aware, I've been buying everything in Fortnum's': James reacts to Tory value range comment
As the Bank of England raises the interest rate for the fourteenth time in a row to 5.25 per cent, James O'Brien reminded listeners of the sentiments expressed by some Tory politicians in response those struggling with the cost of living.
James O'Brien said: "The idea that you're skipping meals to make sure that the kids can at least get some scran...but one of these Tories turns around to you and says, 'Are you aware of value range food?'"
He referred to former Conservative Party Chairman Jake Berry, who caused an outcry last year after saying: "People know that when their bills arrive, they can either cut their consumption or they can get a higher salary, higher wages, go out there and get that new job."
READ MORE: Bank of England puts interest rate up to 5.25% in fourteenth consecutive rise
Former Environment Secretary George Eustice also suggested that people should buy value brands to "contain and manage their household budget".
Responding to Mr Eustice's suggestions, Money Saving Expert Martin Lewis said: "What is wrong is the concept that the people that are on the lowest incomes who are choosing between whether they freeze or starve, don't know that and don't do that, that's the bulls***."
READ MORE: Conservative Party Chairman sparks anger by telling people 'earn more money' if they are struggling with bills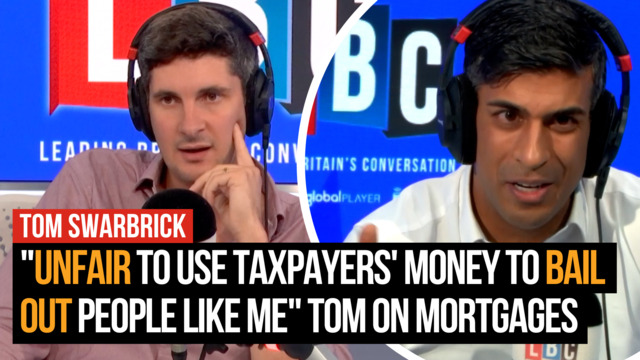 Tom Swarbrick reacts to Rishi Sunak telling struggling homeowners to 'talk to their bank'
James branded the idea of Tories making such comments "a truly remarkable moment", adding: "Thank you, Mr Tory. I was not aware of the fact that food had different prices...I've been buying everything in Fortnum and Mason!
"I had no idea there were cheaper shops. What would we do without such amazing, coruscating, sparkling insights from our Conservative politicians? Cheaper food, you say? What? really?! You don't have to get everything in the Harrods food hall?"
READ MORE: 'It's simply fact': Deputy PM defends Rishi Sunak after he tells LBC strikes are to blame for NHS waiting lists
"So a tin of own brand beans is cheaper than Heinz, you say? Well, colour me shocked!" he added, continuing with his mock surprise.
"Thank you. Thank you, master", James said, asking his listeners: "Do you see what I mean? Imagine being that person, thinking that was helpful advice."